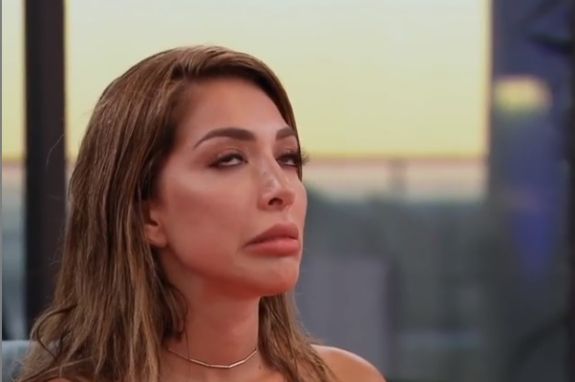 From acting like a lawyer despite not going to law school, to acting upset after being banned from a reality show taping, the stars of the 'Teen Mom' franchise (both past and present) have been keeping themselves busy lately! In an effort to get you up-to-date on the latest Teen Mom OG, 16 and Pregnant and Teen Mom 2 news, The Ashley brings you the Teen Mom News Pile.
Here are some of the major (and minor but interesting) 'Teen Mom'-related things that have happened over the last week or so…
Farrah Abraham claims former costars want her to represent them in court.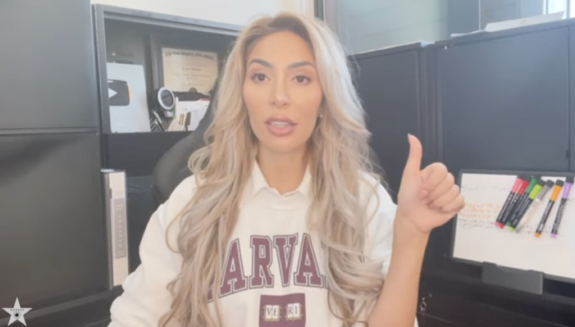 Former 'Teen Mom' star Farrah Abraham–- the girl who recently accused Harvard University of committing "educational abuse" after the school booted her from an online course–- recently told TMZ that, despite no longer being enrolled at the Ivy League school, her legal services are in high demand.
We should also mention that Farrah does not have a law degree/grasp on reality; however, she still claims to "work with a lot of public figures." In fact, she even claims some former 'Teen Mom' cast members are interested in having her represent their respective legal cases.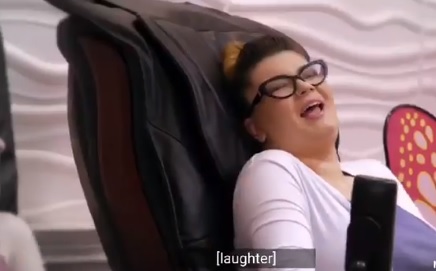 "I think I have to have my own office," Farrah said. "My friends keep asking. 'Teen Mom' cast members keep asking if could represent them."
(Farrah has yet to reveal which "former cast members" are begging for her to be their lawyer, but The Ashley believes the former cast member below is probably the only possibility.)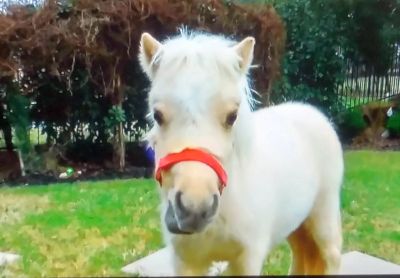 Not only is Farrah alleging that friends and reality stars want her to represent them in court, she's also claiming to be in high demand among law firms and other Ivy Leagues following her "Harvard debacle."
" … It's an exciting time, so like, law firms are coming up [to me]," she told TMZ. "We have so many options as law students to schools, like, Yale has reached out. So I'm just so pumped because I have all these choices for law school … ."
Farrah said she's unsure if she'll remain on the West Coast or move east to pursue her law degree, though she's leaning more towards the former, because she's all about inclusion…or something. (Consider yourselves warned, West Coasters!)
" … I think the West Coast is more diverse and appropriate for like, inclusion, better weather, so we'll see what happens about that," she said.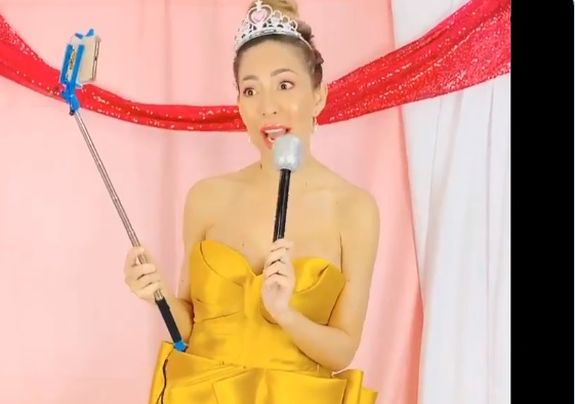 When asked if she planned to get into criminal law, civil law, commercial law or another focus, Farrah gave a response like only she can.
"Man do I love criminals, or criminals love me, I don't know what it is," she responded. "I think I'm more interested in entertainment law, IP law– I'm really good with that stuff. So, either way I'm here, whether it's abortion laws, whether it's civil lawsuits, whether it's larger IP cases, I'm here for it all. Come get me. I can't wait to see what my law office looks like."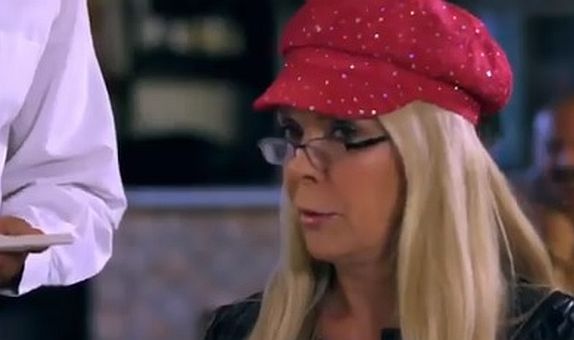 Gabbie Egan Explains Why She & Jenelle Evans Are No Longer Friends on Social Media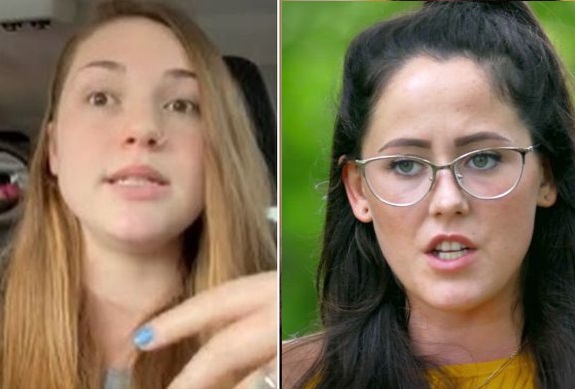 There appears to be some "Girl S**t" going down between Jenelle and her almost-podcast-pal, Gabbie Egan!
Gabbie– a TikTokker best known for being cast on Jenelle's ill-fated podcast earlier this year, had been palling around with the former 'Teen Mom 2' star since their "Girl S**t" podcast went up in flames like the dumpster fire that it was. After the podcast failed, Gabbie and Jenelle remained friendly, with Gabbie even visiting Jenelle on The Land this summer.
However, some eagle-eyed fans recently noticed that Jenelle no longer follows Gabbie on social media, and on Tuesday, Gabbie took to TikTok to address the issue.
"I've been getting so many DMs and comments asking why Jenelle unfollowed me on TikTok and Instagram…" Gabbie said, later adding, "I hung with her at her house and stuff, I met her kids and s**t. I honestly really, really liked her and then I didn't talk to her for a little bit because I ended up getting in some trouble."
(Here's the "trouble" Gabbie is talking about, by the way…)
"I was really depressed and had zero energy to even talk to anybody," Gabbie said. "Bro, I was just so depressed. Finally we started talking back and forth a little bit, and then two weeks went by without me talking to her and then she unfollowed me.
"I don't know if I did something," she continued. "I don't think that I did; I don't think that there's any drama. I did text her about it and she never responded. That was like a week ago or so."
Gabbie said she still considers Jenelle a friend.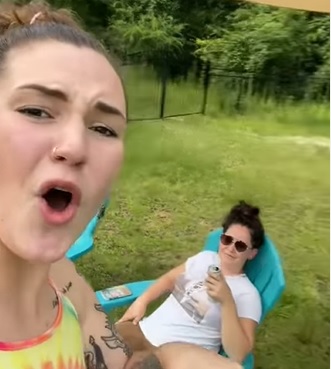 "If she ever needed anything I would still be here for her," she said.
Jenelle has yet to address the drama with Gabbie. However, during an Instagram Q&A session on Wednesday, she assured her followers that she does have pals. When a follower asked if she and David have close friends, and stated that it seems "like you guys are lonely," Jenelle said that isn't true.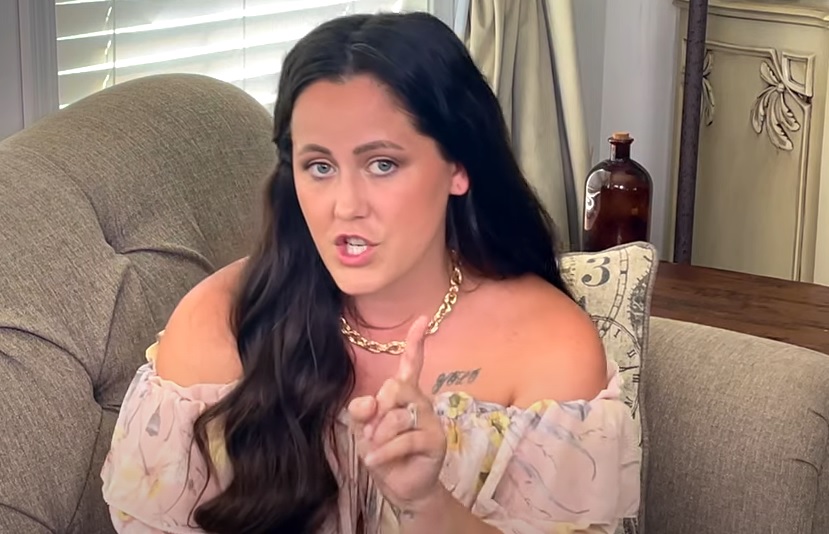 "Def not lonely," she wrote. "We put away our phones when we hang out with friends."
Cory Wharton Pouts Over MTV Banning Him from 'The Challenge' Reunion Due to His Unwillingness to Get the COVID-19 Vaccination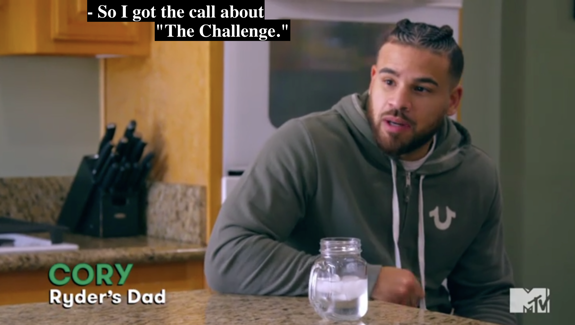 Don't expect to see Cory's mug on the Reunion special for the current season of 'The Challenge,' as the 'Teen Mom OG' dad revealed on Tuesday that he is not allowed to attend, due to his unvaccinated status.
Cory— who, as The Ashley told you yesterday, is currently splish-splashing in San Diego filming the 'Teen Mom' spinoff— complained on Twitter that the show's higher-ups are trying to "strong arm" the cast into getting a COVID-19 vaccine.
"No 'Challenge' reunion for me, they said due to my vaccination status," Cory wrote. "They are really strong arming ppl now a days. Smh."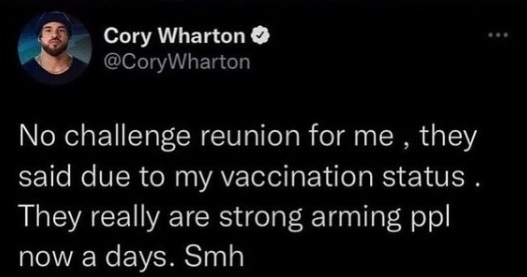 Cory deleted the tweet soon after posting it.
While the deletion may have come at the request of MTV, it also could be because he was getting shredded on Twitter. A large number of fans expressed their anger over Cory refusing to get vaccinated, despite the fact that his oldest daughter Ryder is immune-compromised due to having VLCAD, a rare condition that can cause liver and heart issues, due to her body's inability to break down some fats.
(For those asking why unvaccinated Cory is allowed to film for the 'Teen Mom' spin-off and 'Teen Mom OG' but not 'The Challenge' Reunion, The Ashley can confirm that he is not the only 'Teen Mom' cast member who is not vaccinated. The production company requires the casts to take rapid COVID tests before filming. Also, the shows have different production companies, and each production company has its own rules and COVID protocols to follow.)
Former "16 and Pregnant" Star Izabelle Tovar Welcomes Third Child; Gives Her Baby a "Fruity" Name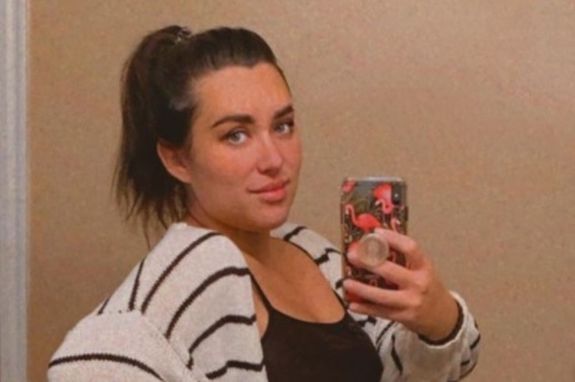 It's a girl for former "16 and Pregnant" star Izabella Tovar.
Izabella— who gave birth to her son Enrique (aka Henry) during the third season of the MTV show— welcomed her third child on Monday.
She gave the baby girl the name Peach Eleanora.
"Peach Eleanora Alofasaupō born 12:49 pm on 9/20/21," Izabella captioned a series of photos posted to Instagram. "She weighs 7 lbs 11 oz & is 19 1/4 in long. We are so in love! Can't wait to share her birth story soon.
View this post on Instagram
"Thank you all so much for your congratulations and well wishes, seriously means the world. We're so lucky to be surrounded by so much love and support!" Izabella wrote.
Izabella had a home birth, and is apparently pleased with her decision to do so.
"Such a quick birth!" she wrote on Instagram Stories on Monday. "So glad to be home in my own bed…"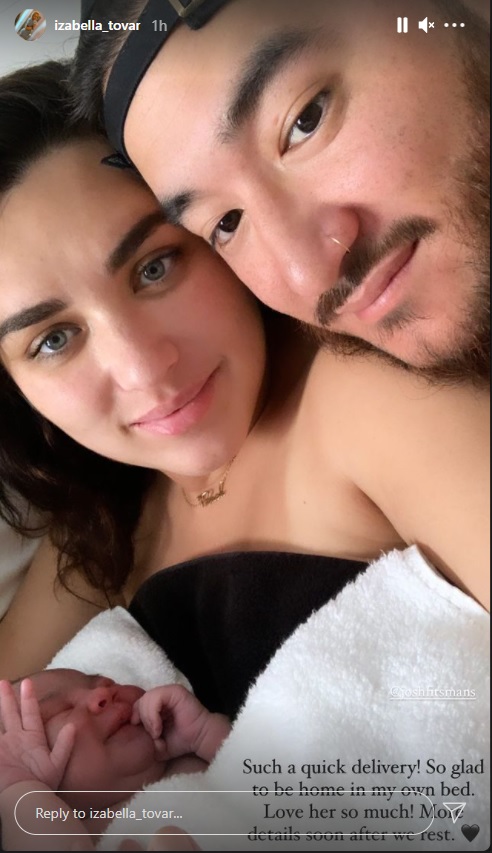 Baby Peach joins Henry, and Izabella's daughter Anastazia, who was the second child born to Izabella and her then-husband Jairo Rodriguez. Izabella and Jairo divorced in 2018, and both have moved into relationships with other people. However, Izabella and her current boyfriend Josh frequently hang out with Jairo. Two days before Peach's birth, Izabella posted about an outing that Josh, Jairo and Henry all took together.
"Henry's birthday weekend request was to go to Lagoon with Josh, Jairo, & his friend. They had the best time together. So grateful for how well they get along," she wrote. "A lot of people ask me what the dynamic is like between Josh & Jairo and honestly they're great friends! Love seeing pics like this. Henry is one lucky guy to have such awesome men in his life. #CoParentingDoneRight"
Izabella's episode of "16 and Pregnant" was memorable for several reasons, including that she was only 15 years old when she got pregnant, and that she kept the pregnancy hidden from nearly everyone until she was ready to give birth.
View this post on Instagram
In 2016, Izabella became the first girl from "16 and Pregnant" to graduate from college with a Bachelors degree.
To catch up on more recent 'Teen Mom' news, click here!
(Photos: Instagram; MTV; TikTok)