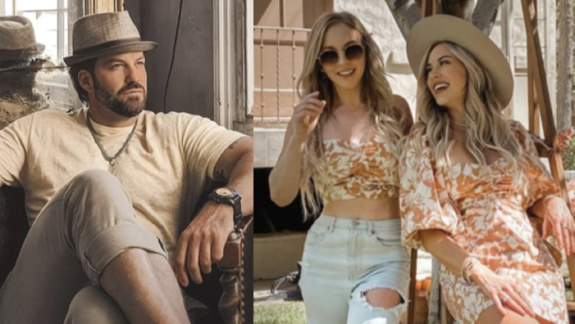 Johnny Bananas messed with the wrong sisters.
Johnny was called out this week by Morgan Willett, his girlfriend of nearly two years, who revealed that she had dumped The Challenge vet after discovering that he had allegedly been cheating on her. While Johnny has declined opportunities to tell his side of the story, a recent Instagram post he made set off Morgan's sister, Alex Shay Willett. In a series of now-deleted posts on Instagram and TikTok, Alex publicly accused Johnny of cheating, being a narcissist and other unsavory things.
(As The Ashley told you last week, Morgan's breakup announcement came shortly after a video circulated on several 'Challenge' tea accounts. In the video, a man who looked like Johnny was seen getting cozy with a brunette at a bar in Newport Beach, California. The man was standing next to several former 'Challenge' stars in the video.
Still, Morgan didn't publicly accuse Johnny of cheating until this past weekend.)
On Tuesday, Johnny reposted a meme of the CT Tamburello/Banana Backpack moment from The Challenge: Invasion along with the text, "When life carries you through tough moments."
While Johnny has allegedly been deleting negative comments on the post, the Twitter account @Challengemtv__ managed to grab some screenshots from Alex, who took the opportunity to call out Johnny for his rotten behavior.
Morgan's sister posting about Bananas calling him a narcissist 👀👀 #thechallenge pic.twitter.com/AiqRhEmHKv

— The Challenge MTV (@Challengemtv___) October 6, 2021
"I know you've been deleting comments so let's see if you delete this," Alex wrote. "When life carries you through tough moments? Please. Let's change this narrative – How about you think about the girl who loved you that you betrayed and how she's trying to get through this tough moment. You are SO insensitive. There's something seriously mentally wrong with you."
Alex's Banana-rant didn't end there.
When asked if she was a fan of Johnny while he was dating her sister, Alex said she and her friends and family did like Johnny, as they all "got to know the actual Johnny and not his TV persona."
However, Alex added "a tiger doesn't change its stripes and now I just feel sorry for him and how his life is going to end up."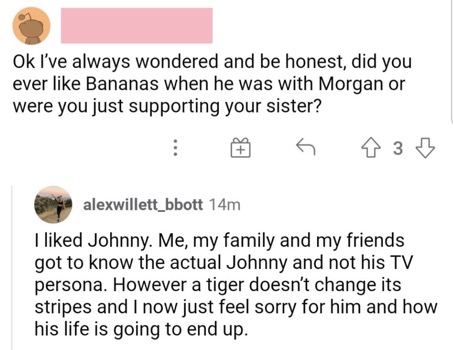 Alex said she doubted her comments would hurt Johnny "because he's a full-fledged narcissist who only cares about himself." Alex also said she planned to tune into former 'Challenge' star Sarah Rice's Brain Candy podcast after someone told her that Sarah has been calling Johnny a narcissist for years.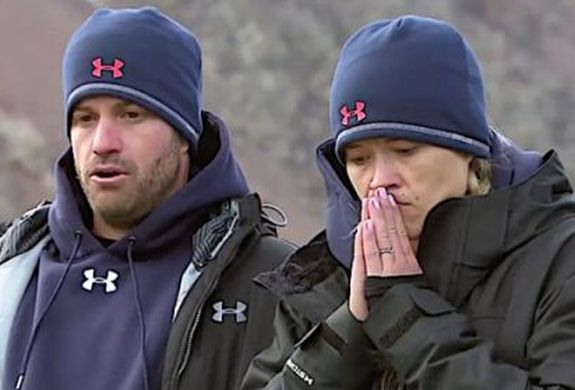 (As longtime 'Challenge' viewers may recall, Johnny and Sarah were partners during The Challenge: Rivals III and, though the duo came in first place, Johnny technically had the better score of the two and was given the option to take all of their prize money for himself… which he did, leaving Sarah with no winnings.)
"I need to listen to her podcast," Alex wrote on Twitter. "I appreciate Sarah."
While Johnny was oddly "liking" Morgan's recent vacation posts, Morgan has unfollowed him on Instagram.
RELATED STORY: Johnny Bananas Says 'The Challenge' is "Somewhat Painful to Watch"; Blames Significant Drop in Ratings on Show's Constant Twists & New Faces
(Photos: Instagram; Twitter; MTV)