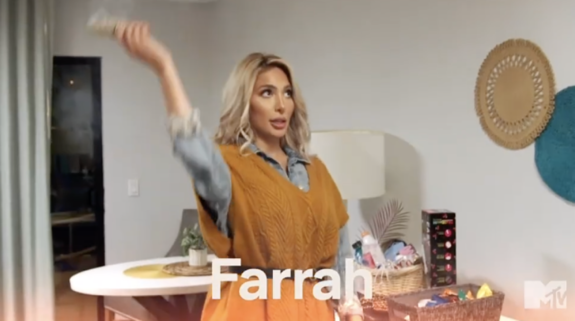 Former Teen Mom OG star Farrah Abraham officially made her return to the 'Teen Mom' franchise recently, and in just a few minutes of screen time, she managed to remind nearly everyone why they were so happy to watch her leave MTV in the first place.
For those who missed Farrah's appearance on Teen Mom Family Reunion, moments after revealing herself to the group, Farrah was confronted by Cory Wharton about accusations she previously made against him and baby mama Cheyenne Floyd that they only had a child together to join 'Teen Mom.' Things blew up when Farrah called Cory "ghetto," and on Tuesday, the show's stars reacted to Farrah's return, her comments about Cory and more.
And, naturally, Farrah took to social media to defend herself, call everyone but herself racist and quit 'Teen Mom.' Her dad Michael Abraham also defended her, as did her daughter Sophia (who allegedly "wrote" a long Instagram post praising Farrah).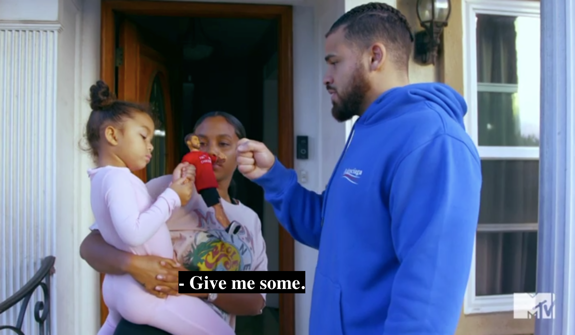 (It's worth noting that when Cheyenne and Cory were asked to join 'Teen Mom OG,' Cheyenne had already appeared on Are You The One?, Cory had appeared on Real World: Ex-Plosion, and both had appeared on The Challenge.)
After Cory confronts Farrah–- quite calmly, I might add–- Farrah makes a comment about Cory being "ghetto." This comment causes Cheyenne to go off on Farrah, with nearly everyone else at the 'Teen Mom Family Reunion' resort following suit.
Since Tuesday's episode, the cast and (as well as other members of the 'Teen Mom' franchise) have shared their thoughts on Farrah's not-so-triumph return, including Ashley Jones and husband Bar Smith who were there to watch the chaos unfold.
Ashley and Bar were not happy that Farrah decided to use the term "ghetto."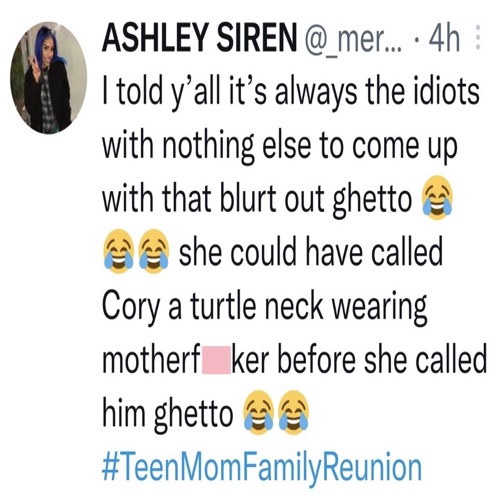 "I told y'all it's always the idiots with nothing else to come up with that blurt out ghetto," she wrote. "She could have called Cory a turtle neck wearing mother f**ker before she called him ghetto."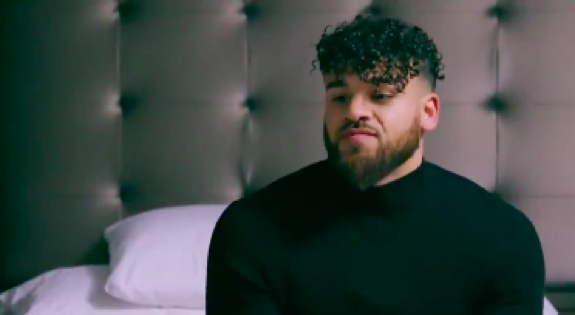 Ashley also reiterated her statement from Tuesday's episode that the "only 'person' who is ghetto" is the plastic surgeon who has given Farrah the face she's currently rocking. (Ashley also referred to Farrah as "Jigsaw," a reference to a character with an, um, interesting face from the "Saw" movies.)
Ashley then went straight for the Jigsaw jugular by reminding viewers what Farrah has done to "STAY relevant" by including a screenshot of some of the extremely NSFW, straight-from-the-driveway-Porta-Potty services Farrah offers to perform online for cash.
"I had a baby to BECOME relevant, now let's see what some did to STAY relevant," Ashley captioned the disgusting post from Farrah's online poop 'n' play service list.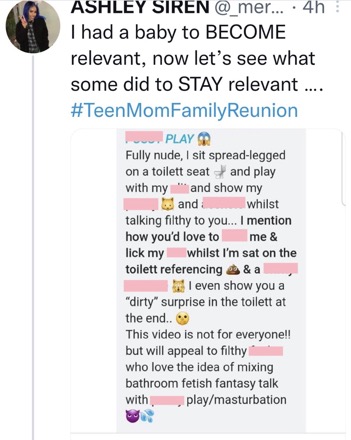 Bar and 'Teen Mom 2' sister Brittany DeJesus even co-signed on a new nickname for Farrah inspired by the former 'Teen Mom OG' star's recent announcement that she plans to sell her crap (and crap toys) online.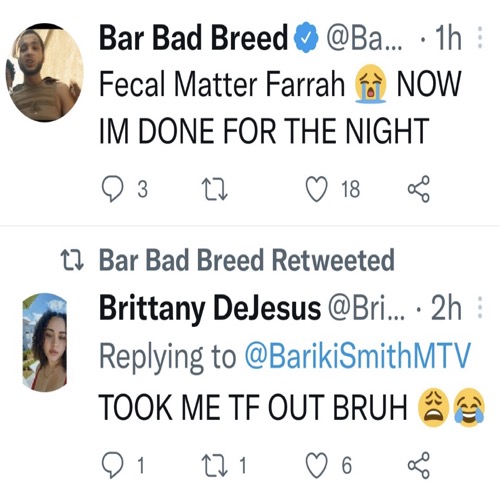 "Fecal Matter Farrah," Bar tweeted with a crying laughing emoji. "NOW IM DONE FOR THE NIGHT."
"TOOK ME TF OUT BRUH," Brittany added.
Bar also called out Farrah for doing "horrific things for money," being "hateful and delusional," and having the nerve to repost a screenshot to her Instagram after Tuesday's episode voicing her objection to critical race theory being taught in schools.
"So she sells poop, poops on camera while on period and does numerous other horrific things for money, she's hateful and delusional and after calling Cory ghetto she posts this," Bar wrote on Twitter.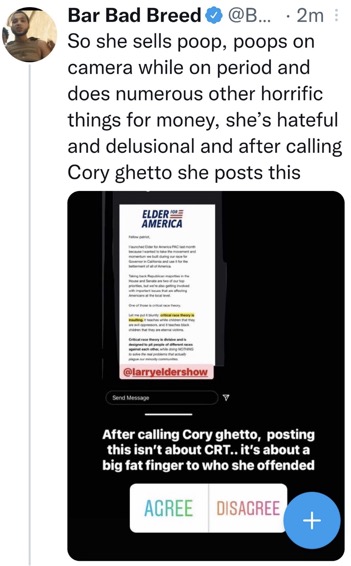 Farrah's former co-star (and nemesis) Amber Portwood also spoke out following Tuesday's episode, during which viewers saw her attempt to befriend Farrah. After Farrah's antics were revealed on the show, Amber hopped on Instagram Live to remind followers that "everyone is invited" (well, not everyone) to the reunion and the goal was for the cast to focus on working on themselves.
Because of this, Amber claims she wasn't interested in getting "wrapped up in the drama."
While her 'Teen Mom' Franchise co-stars went hard for her (no pun intended), Farrah did have her favorite person in her corner: herself. She took to Instagram and Twitter to defend herself and post multiple (nearly incoherent) rants about her experience on 'Teen Mom Family Reunion,' assuring the public she's done with 'Teen Mom' and everyone involved with the franchise.
(Naturally, The Ashley has not edited Farrah's post, so that the "Farrah Speak" can be preserved.)
"I will no longer have anything to do with @TeenMom," she wrote. "The disturbing environment does not belong in my future & what I see is evil, is abusive, has no ethics and is illegal and against the contract. I don't want any of these people around my family. Enjoy your hate pit of ignorance & power trip."
Farrah then claimed that the other cast members' kids should be taken from them.
"Children should not be around parents who lie, hate and are abusive," she wrote. "I wish all the 'Teen Mom' children the best, they deserve far greater then what they have. It's evident."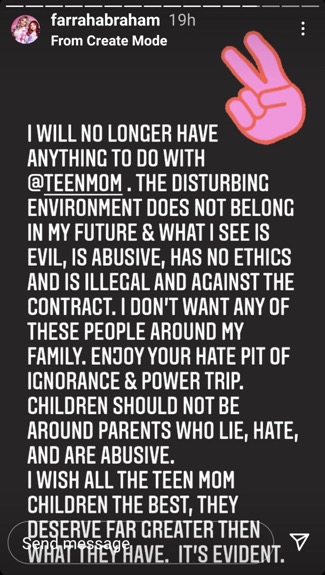 She went on to call the cast "deplorable" on Twitter as well.
"The world is tired of hate, attacks, abuse and non sent culture," she wrote…even though this had nothing to do with anyone not consenting to anyone.
"Teen Mom GOOD LUCK or what is this 'Take Advantage of Teen Moms' since it's not teen moms anymore," Farrah wrote. "These people are deplorable. This ship has sailed."
She then gave "future teen mothers" (um..?) some advice.
"Watch out & stay strong!" she wrote before signing her initials.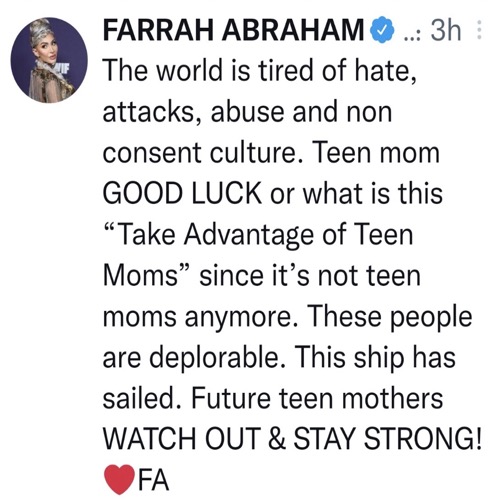 Farrah also denied that she is racist, despite showing similar behavior on TV in the past, most notably during her time on Marriage Boot Camp Reality Stars: Family Edition, where she called a Black cast member a "Black piece of s**t."
(You may also remember that, back in 2016, Farrah called Blac Chyna a "f**kin' monkey.")
"For those who call me racist you are racist," Farrah wrote. "Please educate yourselves as I stated a fact not an opinion. It's in our dictionaries. Legally the footage removed from this attack helped protect those whom broke their contacts. The male womanizers hiding behind woman I see you."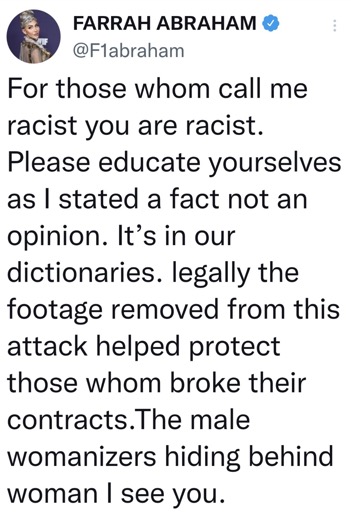 Also standing up for Farrah were her father Michael and Sophia, Farrah's 12-year-old daughter. "Sophia" wrote a lengthy defense on behalf of her mom on Instagram…though many were skeptical that Sophia was the one who wrote the post, since it read exactly like Farrah's "writings."
"I wanted to say I love my mom, I'm proud of my mom," Farrah wrote about herself Sophia wrote about Farrah. "My mom deserves to surround herself with better people, better work surroundings and I never want to be associated with bad people like this. I hope the other kids turn out okay because their parents are lost in hate land that's not real…
"These hateful people don't even deserve to be in my moms eye sight," Sophia (allegedly) wrote, using "Farrah Speak" and the same misspelled words that Farrah frequently does. "No one should be treated like this for over a decade. My mom is truly a role model, a leader and she deserves far greater then Teen Mom. I'm her blessing out of this show and the rest of the show is in shambles. Our lives our far greater then this show…"
"Sophia" then signed her post in the exact same way Farrah signed her post– using her initials.
After multiple comments accused Farrah of penning the caption on Sophia's behalf, Farrah's dad Michael assured fans he witnessed Sophia write the post.
"I was with Sophia when she wrote it," Michael claimed.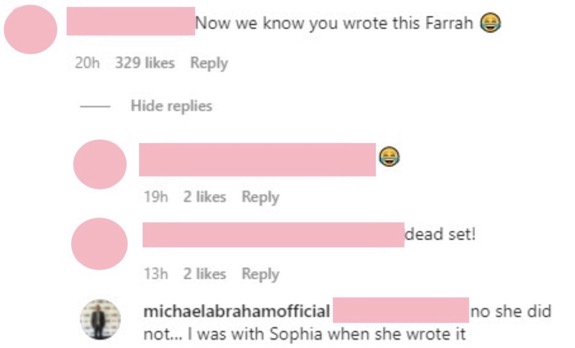 While the incident appeared to have been a complete and total mess, Brittany, Bar and 'Teen Mom 2' star Jade Cline said things were actually far worse than what viewers saw on TV.
"It was a thousand times more chaotic then what they showed on TV,' Brittany wrote.
"Tbh I feel like a lot was cut out," Jade said of what went down that night. "I remember it being even more hectic than this."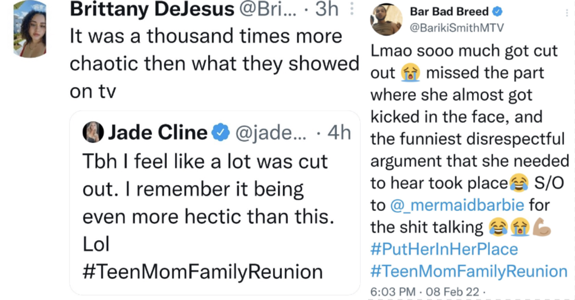 "Lmao sooo much got cut out," Bar said. "Missed the part where she almost got kicked in the face, and the funniest disrespectful argument that she needed to hear took place. S/O to [Ashley] for the s**t talking."
RELATED STORY: Amber Portwood & Andrew Glennon's Drug Test Results are Revealed After Judge Orders the Exes to Undergo Testing as Part of Custody Battle
(Photos: MTV; Instagram; Twitter)