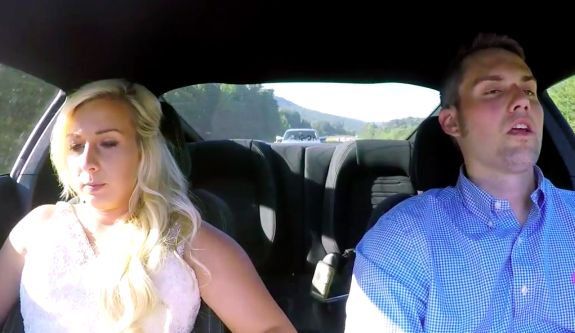 It's been more than 43,800 hours five years since Teen Mom OG viewers watched as Mackenzie and Ryan Edwards hopped into a car to drive to their last minute wedding– a moment that would go down as one of the most controversial (and downright terrifying) scenes in the history of the 'Teen Mom' franchise.
While fans of the show have continued to question Mackenzie's decision to marry Ryan that infamous day– as well as her decision to allow Ryan to get behind the wheel in the first place– the mom of three insists it is something she and her husband "made peace with" long ago.
After a fan asked about the incident this week on Instagram, Mackenzie acknowledged she had "made a very bad decision" at the time. She added that she's grateful no one was hurt as Ryan drove the two of them while (clearly) under the influence and nodding off on the road.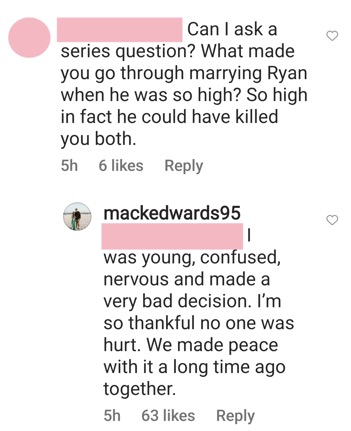 "I was young, confused, nervous and made a very bad decision," she explained. "I'm so thankful no one was hurt. We made peace with it a long time ago together."
Shortly after Ryan and Mackenzie said "I do"– at a park in the presence of Ryan's parents and the MTV camera crew– Ryan entered rehab, where he spent less than a month seeking treatment for a long-term heroin addiction. He was still in the facility during the reunion that season, leaving Mackenzie to address the car ride scene solo.
This was also the reunion in which Mackenzie read a pre-written letter on-stage that essentially blamed Ryan's ex-fiancé Maci Bookout for not giving her a heads up about Ryan's drug problem.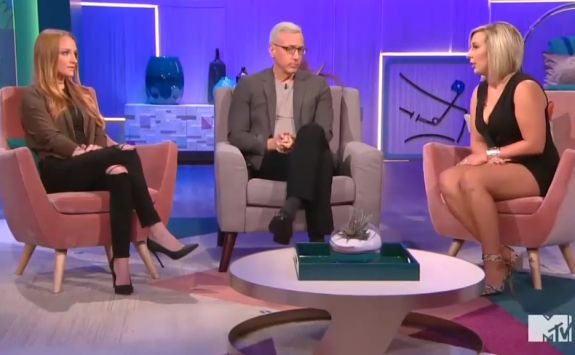 Mackenzie claimed this week that her and Ryan's last-minute wedding and the events that followed "happened so fast" that she "wasn't sure how to process" everything.
" … It was very hard going through that, much less publicly!" Mackenzie wrote. "I wasn't even sure how to process what was happening much less my words to describe it. Rips my heart out looking back at everything! Feels like a lifetime ago! I feel like Ryan and I have a weight lifted completely off of our shoulders."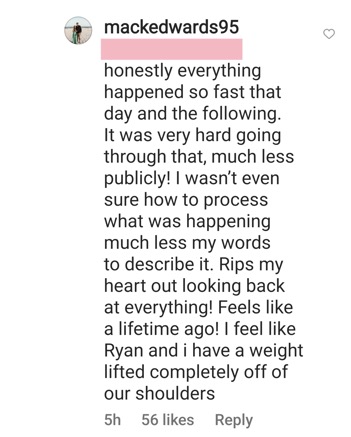 In another comment, Mackenzie claimed she didn't "feel like there was ever a time I was able to give a response without it being dramatic," regarding questions surrounding Ryan's substance abuse issues.
"I love that man so much, and he loves me back," she added.
While Ryan and Mackenzie appear to be doing well since getting booted from 'Teen Mom OG' (at the request of Maci) in March 2021, as fans of the show may remember, the drama involving Ryan's substance abuse issues did not end (or begin) during his post-wedding trip to rehab.
In March 2017, Ryan was issued a citation for "simple possession of heroin." At the time, police found 14 needles and a bag of heroin in Ryan's possession. He was arrested again in March 2018 and in August 2018 in relation to the original arrest. Ryan returned to rehab for a third time in the fall of 2018. (His first attempt at rehab was back in December 2012, according to his ex-girlfriend, Dalis Connell.)
Mackenzie and Ryan went on to have a larger wedding ceremony, which was featured on 'Teen Mom OG,' and they have also welcomed two children together.
Despite Maci and her husband, Taylor McKinney, questioning the status of Ryan's sobriety prior to the Edwards family getting booted from the show, Ryan has insisted that he is clean and sober and even claimed to have celebrated his three-year sobriety anniversary in August 2021.
RELATED STORY: EXCLUSIVE! Debra Danielsen Talks About Her Daughter Farrah Abraham's Behavior on 'Teen Mom Family Reunion': "I Was Horrified"
(Photos: MTV; Instagram)