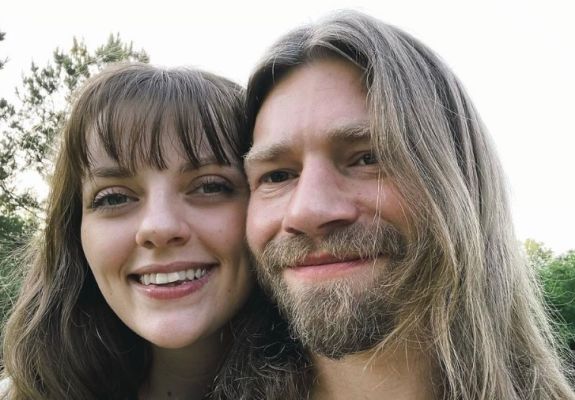 Things are looking up for Bear Brown.
About a month after the Alaskan Bush People star accepted a plea deal following his arrest for domestic violence, Bear and his wife Raiven have announced they're expecting their second child. The couple– whose relationship has been an up-and-down roller coaster of arrests, restraining orders, makeups and breakups— posted their big news on Instagram on Saturday.
"Raiven and I have some super awesome news we'd like to share with everyone!" Bear captioned a video showing his, Raiven's and their son River's hands uncovering a positive pregnancy test. "Raiven is pregnant! Becoming a dad was one of the greatest moments of my life! It's still really early and we're praying for a healthy baby, but I couldn't be more excited to welcome another little one into this world!"
Raiven posted the same video to Instagram and TikTok, expressing that, despite having gone through several miscarriages, they decided to announce the pregnancy in its early stage so that it wasn't leaked before they were ready to tell their fans.
"We are still super early so it's a bit of a scare sharing this early," Raiven captioned the video. "But I really want to be transparent with you all! You've been so supportive with all we've gone through. I am so excited for River to be a big brother. We are praying this baby sticks! Last time people announced my pregnancy with River. This time I wanted us to say it in our own way. Without fear it was going to be leaked. We pray that we have our little rainbow baby! All your prayers would be greatly appreciated."
As fans of 'Alaskan Bush People' know, Bear and Raiven have had a rocky relationship dating back to September 2019, which has consisted of Raiven filing (and later dropping) several restraining orders against Bear, a messy custody battle over their son and allegations of abuse and drug use.
Raiven gave birth to their son in March 2020; however, Bear didn't meet River until he was six months old. (Bear and Raiven were not together at the time of River's birth.) After several court proceedings and a lot of drama, Bear and Raiven got back together (and broke up again several times) before finally getting married in January 2022.
View this post on Instagram
Several days after celebrating River's birthday in March, Bear was arrested on March 11 for allegedly putting his hands on Raiven after the two got into an argument while cleaning up their camp trailer in preparation for a move. Raiven, who claimed to be the alleged victim of the domestic violence incident, had a no-contact order placed against Bear on March 14, but asked the court to rescind the order two days later.
Bear later called the domestic violence claims against him "unfounded," and Raiven posted a statement to Instagram calling the incident between her and Bear "a private matter" that "shouldn't be shared online."
Anyway, Bear and Raiven have not revealed when Raiven is due or whether or not they're expecting a boy or girl.
RELATED STORY: 'Alaskan Bush People' Star Bear Brown Accepts Plea Deal Following Domestic Violence Arrest
(Photos: Instagram; TikTok)