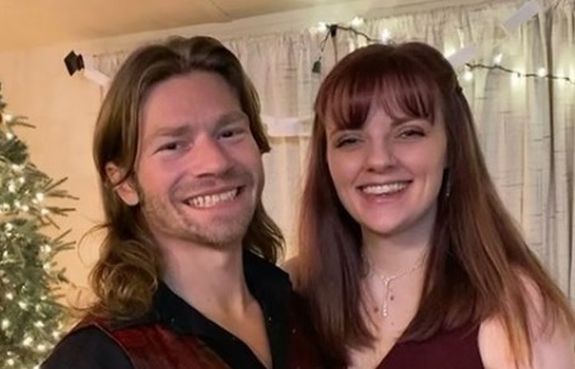 Bear Brown is attempting to put his recent domestic violence arrest behind him.
The Alaskan Bush People star— who was arrested last month— has accepted a plea deal, The Sun reported on Thursday. Accepting the plea deal means Bear has waived his right to have a trial. A Washington judge will need to sign off on the plea deal on May 12.
It is unknown what, if any, sentence Bear has agreed to.
The plea deal is a new development in the case. On March 14, the 'Alaskan Bush People' star pleaded not guilty in court and requested a jury trial.
This comes just a few weeks after Bear's new wife, Raiven, dropped the no-contact order she had filed against him. Raiven, who claimed to be the alleged victim of the domestic violence incident, had the no-contact order placed against Bear on March 14, but asked the court to rescind the order two days later.
As The Ashley told you, Bear was arrested March 11 for allegedly putting his hands on Raiven– who is also the mother of his two-year-old son River– after the two got into an argument while cleaning up their camp trailer in preparation for a move.
Following the news of Bear's arrest going public, Raiven posted a statement to Instagram calling the incident between her and Bear "a private matter" that "shouldn't be shared online."
Raiven said she didn't want people "being a bully" on her behalf to Bear, claiming only those involved in the situation understand what's going on. She did, however, ask for "the respect and privacy to handle our personal issues as a family alone."
"Don't believe everything you read online," she added. "The most important person in this situation is our son. All I am certain of is we both just want the same freedoms you all have. The right to sort out our personal matters. Also not to be judged on things other people don't have all the facts for."
Last month, Bear called the charges of fourth-degree domestic assault against him "unfounded."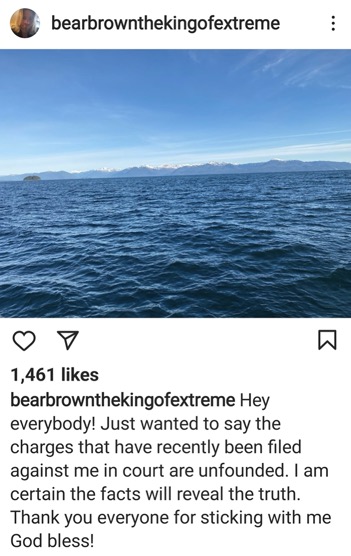 "I am certain the facts will reveal the truth," he added on Instagram. "Thank you everyone for sticking with me God bless!"
As fans of 'Alaskan Bush People' know, Bear and Raiven have had a rocky relationship dating back to September 2019, which has consisted of Raiven filing (and later dropping) a restraining order against Bear, a messy custody battle over their son and allegations of abuse and drug use.
After an assortment of makeups, breakups and breakdowns, the couple got married in January. Just days before Bear's arrest, they celebrated their son River's second birthday together.
RELATED STORY: Raiven Adams– Wife of 'Alaskan Bush People' Star Bear Brown– Speaks Out About Bear's Recent Domestic Violence Arrest; Bear Calls Charges "Unfounded"