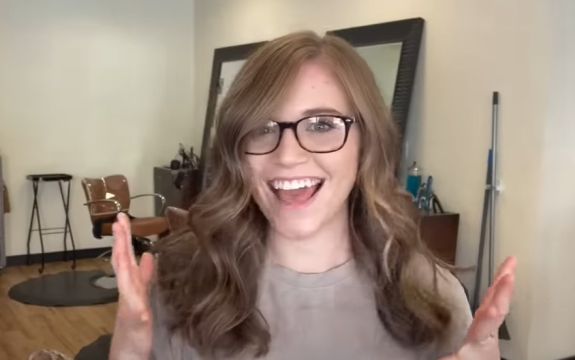 Joy Duggar Forsyth took a big step out of the strict Fundie grooming standards she was raised with. W
In a new video posted to YouTube, the former Counting On star excitedly told her viewers that she was planning to cut her hair. While her fans were digging her new, modern look, Joy's husband Austin Forsyth was not exactly thrilled to see that his wife cut her hair. In the comment section of the video, fans slammed Austin for his somewhat unkind reaction to Joy's haircut.
As those familiar with the Duggars know, the females within the family's religious cult, the Institute in Basic Life Principles (IBLP), are encouraged to keep their hair long . On the Duggar family's shows, the girls stated that they wore then hair long because they believed that it was more Godly.
In their 2014 book, Growing Up Duggar, Joy's older sisters Jinger, Jill, Jessa and Jana state that they "choose longer hair based on our understanding of 1 Corinthians 11:14-15. It says that even nature itself teaches us that, while it is a shame for a man to have long hair, a woman's hair is her glory."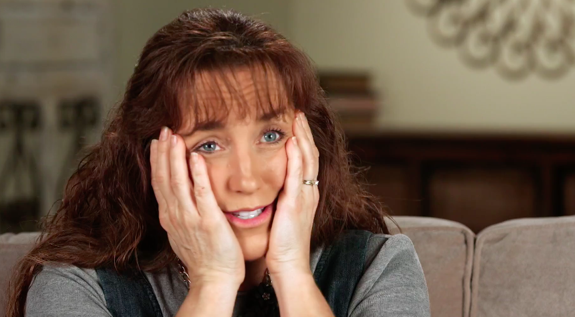 The majority of the Duggar girls continue to wear their hair very long (except for family "rebels" Jill and Jinger), so Joy cutting her hair was a big deal for her. She told her viewers that she's never really cut her long hair before.
"I am going to get my hair cut," Joy–who is currently pregnant— told viewers at the beginning of the video. "I'm so, so, so excited!
"I've always had long hair…but I thought for the winter and this pregnancy I thought it would be fun to change it up," Joy says nervously.
Joy stated that her husband Austin was out of town and that she was excited to show him her new look.
Once at the salon, Joy chopped a significant amount of her long Fundie hair off, leaving the length just below her shoulders. She then had it highlighted with some blond.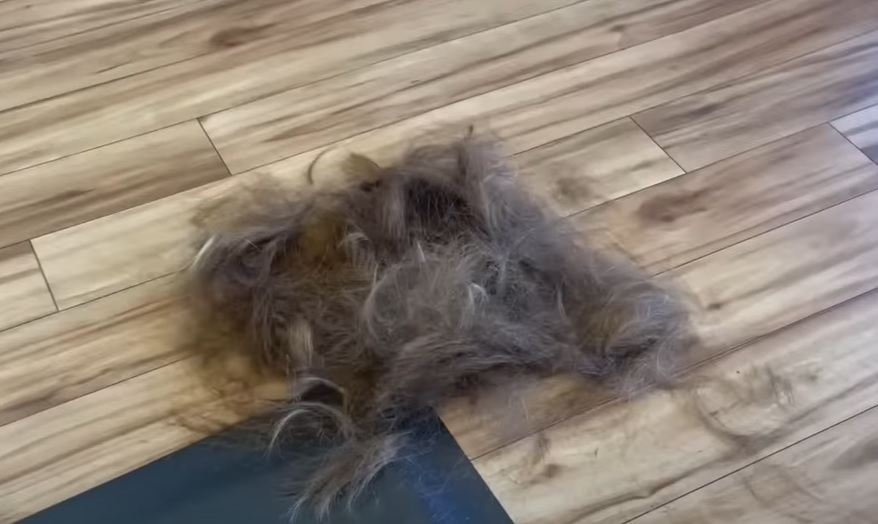 She emerged looking great, exclaiming that she "loved" it and that she couldn't wait to surprise Austin.
"It's not, like, super short, but for me, it's really short," Joy tells the camera.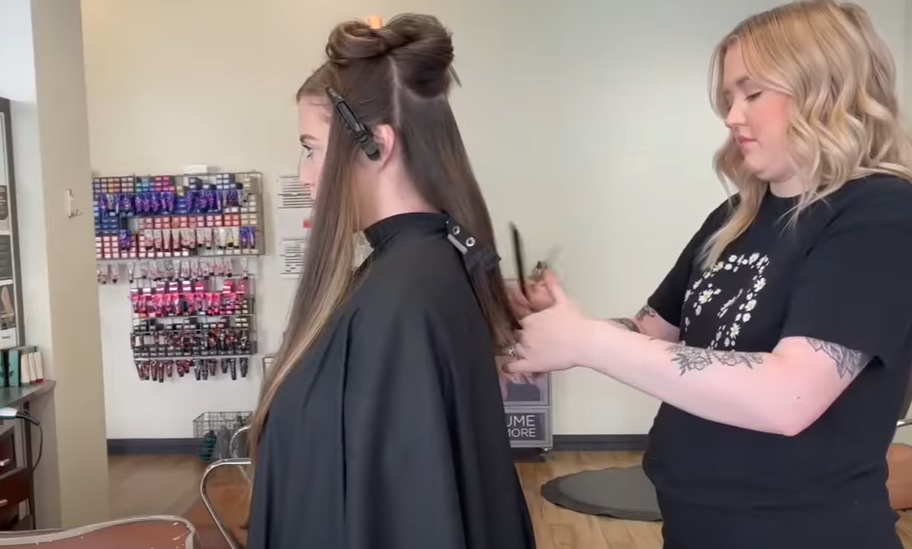 Joy ended up staying awake until 1 a.m. so she could show Austin— who had been away on a trip for six days to Colorado– her new look. She left the camera running to capture Austin' reaction which, unfortunately for Joy, was not good.
"It's a little short," Austin said– seemingly unaware of that a camera was running.
When Joy asked him for his thoughts, he sighed and said, "I don't hate it."
He said that the haircut was "cute" but that it needed to be longer.
"You dirty dog," Austin jokingly told Joy.
Despite his less-than-thrilled reaction, Austin acknowledged that Joy looks happy about her hair and that she looks cute. He also informed her that his father had somehow taken a photo of Joy at the salon and sent it to Austin to inform him that Joy had cut her hair.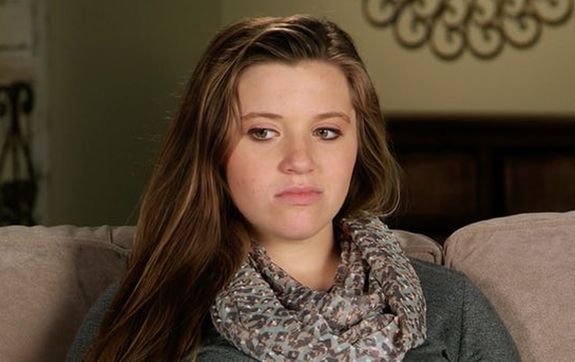 Viewers of the video expressed sympathy for Joy, who had been excited to show Austin her hair, only to have him react in a somewhat negative way.
"Hair in itself has always been a thing of control for the Duggar girls. Jim Bob liked long hair so ALL his daughters had to wear really long hair," one person wrote in the comment section. "So Joy cutting her hair is kind of symbolic of living her own life, away from Jim Bob's control. But then Austin steps in with the same control. Whether he personally liked it or not wasn't as much of an issue of telling her exactly how long it should be…But 'I don't hate it' is NOT a kind or loving comment! You could see Joys face drop."
"Honestly, my heart hurt for Joy in this video," another person commented. "Her hair looks fantastic and she looks beautiful and she really deserved a kinder reaction."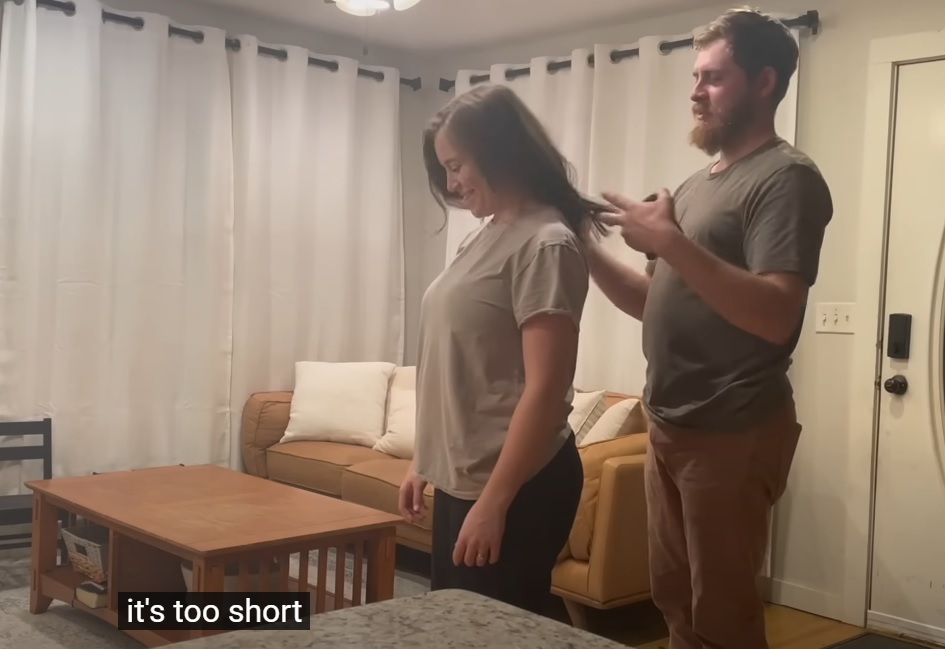 "I think your Father-In-Law and Austin acted like schmucks though!" another person wrote. "Why would he send pictures of your new style to Austin? That's not his place. Austin saying, 'I don't hate it?' How insensitive. He couldn't tell you were excited about it and loved it and been supportive? Ugh!"
You can watch the full video below!
RELATED STORY: Jed Duggar & Wife Katey Address Josh Duggar's "Situation" During Fan Q&A; Jed Denies Being Brainwashed By Duggar Family
(Photos: TLC; YouTube)