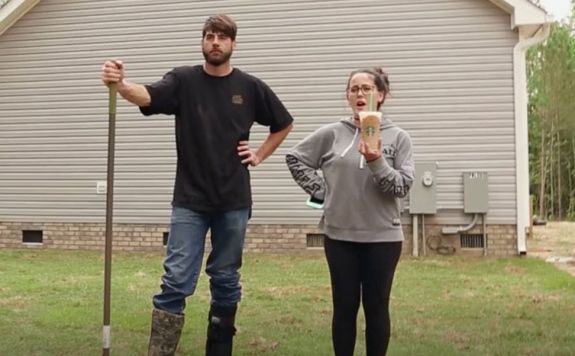 Jenelle Evans and David Eason are reaching out to fans for some financial support in an alleged attempt to fight for full custody of David's son Kaden, less than a day after Kaden's mom Olivia Leedham made her own plea to friends and family.
As The Ashley told you on Wednesday, Olivia shared a GoFundMe fundraiser to her private Facebook, asking friends and family to donate money to help her cover the legal costs needed to continue her fight against David in court. In the fundraiser's description, Olivia expressed concern for five-year-old Kaden to be around David, citing David allegedly killing Jenelle's dog earlier this year, as well as the numerous 911 calls that have been made from The Land.
As of Thursday, Olivia's fundraiser had surpassed its $5,000 goal through the help of nearly 400 donors—- some of whom seemed to have a lot of fun coming up with creative Jenelle-and-David-shaming names. Some of the standouts include: Dramastical Changes, Jenelle's Drug Dealer, Kieffa's Change Jar, I love you Nathan…please call me. J.E., Jenelle's Last MTV Paycheck and Dr. Drew MTV. (However, our personal favorite is "Donating! Donating! You're both donating!")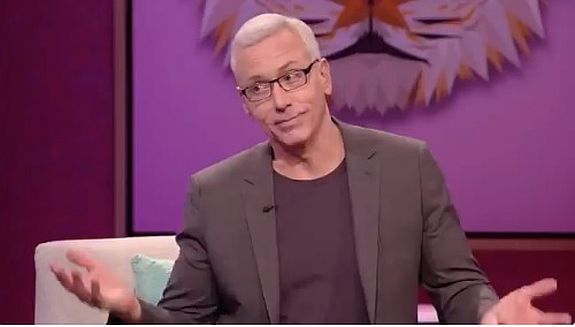 Now, David and Jenelle have jump aboard the fundraising train as well in an effort to scrounge up enough cash to fight for custody of Kaden themselves with a GoFundMe fundraiser entitled, "#JusticeForKaden – Father Torn Away From Son."
In the fundraiser's description, David argues that Olivia is holding him back from seeing Kaden "under every and any circumstance for no legit reason."
"I pay my child support which is an insane amount and very unfair," David— who almost went to jail in May for not paying his child support Olivia– claims.
He also blamed Olivia and her actions for him not having a job.
"I recently started my local business and my ex has made up so many rumors that now it's hard for myself to make any money or even have a job."
David goes on to tell his fans that he has done "nothing wrong" and then segues into why he needs them to fork over their hard-earned money.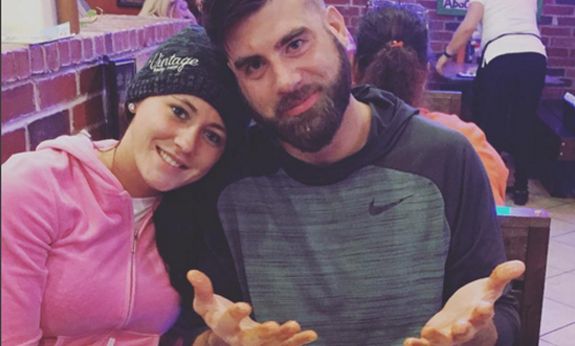 "I need this opportunity and help to go back to pay my lawyer for all the wrong-doings and share to the judge the truly horrible situation my son is in," he explains.
After the GoFundMe fundraiser went live, fans were quick to point out on social media that Jenelle made big bucks from her gig on 'Teen Mom 2' for nearly 10 years. In May, Jenelle and David were forced to reveal their salaries (and spending habits!) during a custody court hearing. Jenelle testified during that hearing that she made $400,000 just in 2018 from her gig on 'Teen Mom 2.' (Jenelle's income has steadily increased since she began doing the show in 2010, meaning she has made millions and millions of dollars from appearing on 'Teen Mom 2.')
David claimed he made about $60,000 from 2017-2018 from his TV appearances. (He was fired in February 2018.) During that same hearing, he blamed his skin condition– vitiligo– for preventing him from working outdoors in the sun and getting a job. (Click here to read the full story.)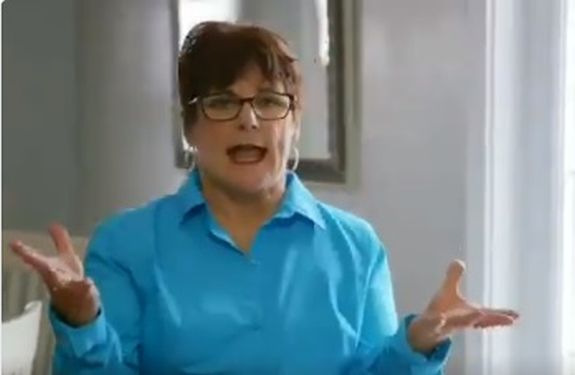 Five hours into Jenelle and David's GoFundMe fundraiser, the couple had only raised $70 of their $3,500 goal. Comparably, Olivia's fundraiser brought in almost $600 within the first five hours.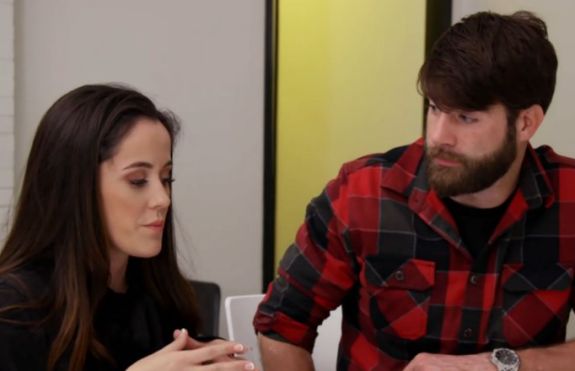 Prior to Jenelle and David's GoFundMe plea going live, Jenelle took it upon herself to warn people via Facebook not to go to Olivia's place of employment and specifically, not to let Olivia– who works as a hairdresser– anywhere near them with a pair of shears. In her review, Jenelle accused Olivia of cutting hair without having the proper license, of "making up false accusations" about Jenelle and her family and of spreading those accusations to her clients. Jenelle claimed she was only leaving the review because her "friend" had a bad experience and didn't know how to post a review herself.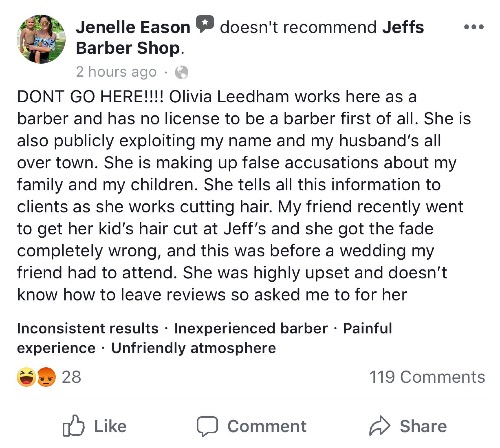 The review has since been taken down.
As for David, he also took to Facebook to slam his ex with some accusations, stating that Olivia is on drugs, "trying to hide her bad habits" and of having a history of being abusive.
"This woman has kept Kaden from me since before he was born when she asked me to sign a paper saying I didn't have to be the dad," David's post read in part. "Olivia was always very abusive towards me and even put my son's life in danger several times while she was pregnant."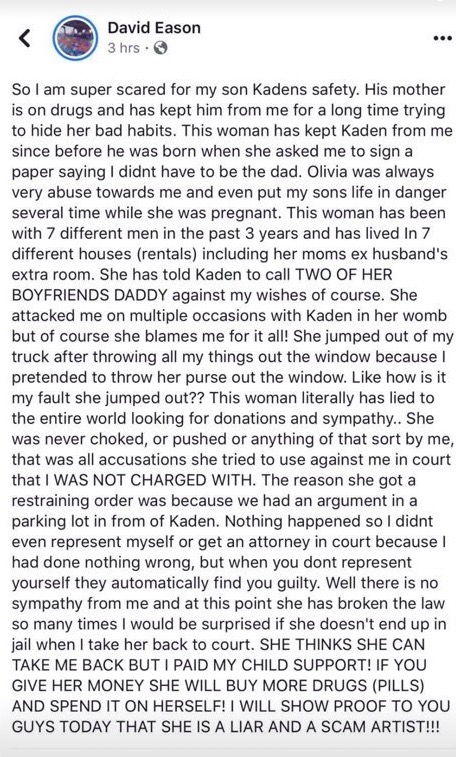 David went on to criticize Olivia for being "with 7 different men in the past 3 years" and for telling Kaden to call two of the men "daddy" against David's wishes—both of which he also mentions in his GoFundMe description
Jenelle shared a similar really longwinded story to her own Facebook page, however, the post has since been deleted, along with her Instagram post sharing David's request for a handout GoFundMe page. A screenshot of the post remains on Jenelle's Instagram Story, along with a second post linking followers directly to the GoFundMe page.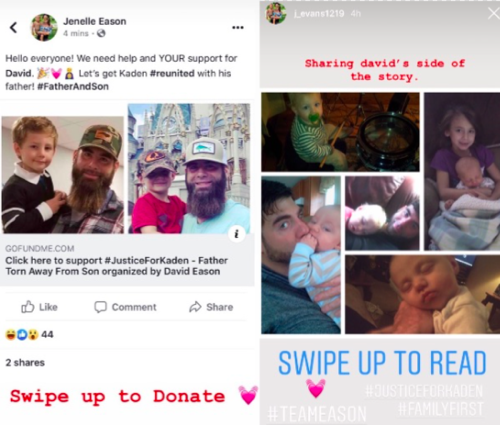 At press time, both GoFundMe fundraisers were still up and collecting donations.
Stay tuned…
RELATED STORY: David Eason's Baby Mama Olivia Leedham Starts Fundraiser to Pay For Custody Fight to Keep Son Kaden Away from David
(Photos: MTV, Facebook, Instagram)