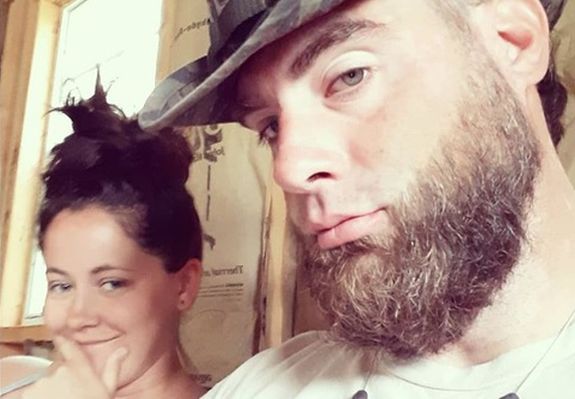 An Oregon cannabis dispensary is paying a HIGH! HIGH! price for arranging for former Teen Mom 2 stars Jenelle Evans and David Eason to come do a meet-and-greet event!
The twosome traveled across the country from their home on The Land in North Carolina to Oregon to attend the event, which was scheduled to take place on Friday at the Burnt River Farms cannabis dispensary. The company was actively promoting the event– even posting to its Instagram that, despite the hate it was getting for using the Easons to promote their product, that Jenelle and David were "welcomed with open arms."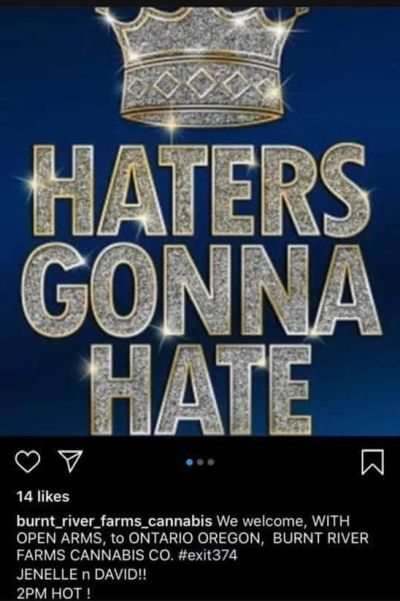 The dispensary was heavily promoting the event on its Instagram page, encouraging wacky tobaccy enthusiasts from near and far to "Come on down for a meet and greet!"
"Wanna meet Jenelle yourself?" the company captioned a photo of Jenelle and David grinning while standing in front of the weed store.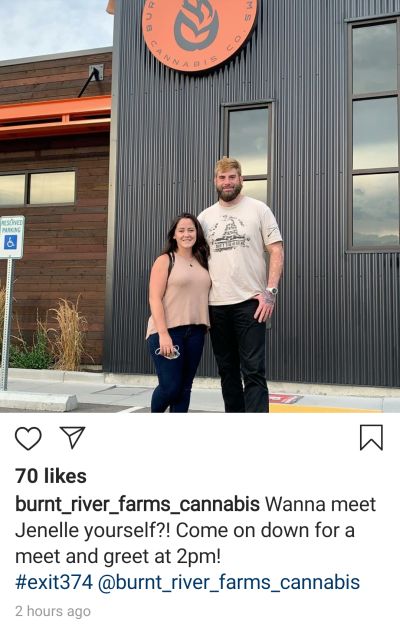 In another post (that has since been deleted), the company boasted that Jenelle would be "in the House" and that the dispensary would be bringing "live coverage" of the event.
"Today come on down [and] get a taste of reality!" the post boasted. "Come meet n greet Jenelle Lauren Evans. Janelle is a reality television personality who rose to fame on MTV's Teen Mom 2. Come and experience BRF next level to the game!"
(Apparently whoever wrote the copy for that promo has been taking "Farrah Speak" lessons?)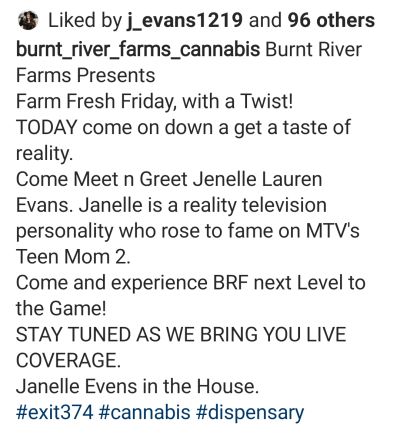 Anyway, the posts were all hit with massive amounts of negative comments about Jenelle and David's controversial pasts, causing Burnt River Farms to turn off the comments for the posts.
"Ah I see you support homophobia!" one person wrote in the comment section before the comments were turned off. "Animal abuse! Child abuse and neglect! Probably not your greatest business move."
"Imagine opening a dog killer, woman beater, and child abuser with open arms?" another person wrote. "A company who is willing to work with blatant racists and homophobes must have the same integrity when picking your products. Your cannabis probably sucks and you probably buy from shady growers."
Eventually, the hate became to much, as the company removed all traces of promotion for the meet-n-greet, and soon began telling those who phoned that the event was cancelled. A Burnt River Farms employee also confirmed on the company's Instagram that the meet and greet did not end up happening.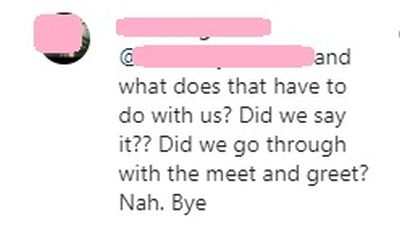 Still, the hateful comments continued to make their way to the company's Facebook reviews and other social media posts.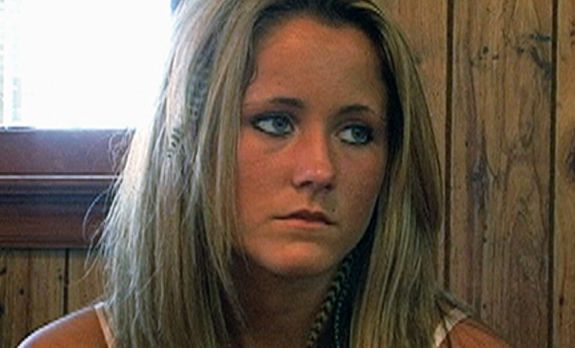 "Not a good look supporting Jenelle and David Eason knowing their history!" one person wrote in a Facebook review posted on Friday. "The only clout your getting is loss of revenue and customers! No one will do business with a company that's openly supports racists who abuse kids and kills dogs!! ZERO STARS."
"There's a reason Jenelle Evans is dropped from nearly every sponsorship deal," another person wrote. "It's because she and her husband abuse children and animals. Congratulations on being the latest business to be destroyed by these two vile, sad excuses for human beings."
The dispensary posted a photo of a people inside the shop (which remains on its Instagram feed at press time). The comments on that post are full of burns against the Easons, as well as Burnt River Farms for associating with them.
"Can't wait until you guys release your newest strain, Dog Killer!"
"You guys must carry some pretty good s**t to smoke, because you'd have to be high as a kite in order to hire two of the biggest dirtbag clowns to drum up business."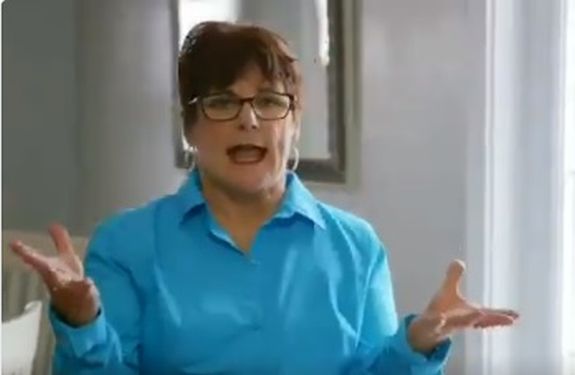 This is certainly not the first promotion and/or job Jenelle has lost due to her past and association with David. In addition to losing her job on 'Teen Mom 2' back in 2019, Jenelle has lost multiple sponsorship deals— including with Blue Apron, Prana Mat, and PatPat Clothing, to name just a few. In September 2019, the New York City salon that was due to host Jenelle's launch party for her JE Cosmetics company abruptly cancelled the event, stating online that it was unaware of David and Jenelle's histories.
"This event has been cancelled at our venue!" the salon wrote on its Instagram. "Our salon was unaware of what her and her husband have done or have been connected to, and in no way, would we support such brutality. We apologize for not doing out research beforehand. "Our salon, in no way, has any connection to, nor supports the brutality in which they are linked."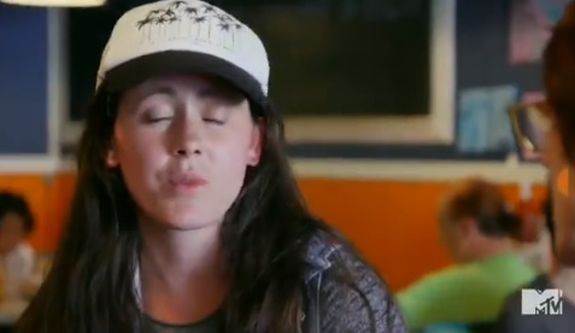 UPDATE! Both Jenelle and the dispensary have issued very different statements about the cancelled event. Click here for the latest info!
RELATED STORY: Teen Mom News Pile: David Eason's Drivers License Gets Revoked, Debz OG Drops New Music & More
(Photos: Instagram, MTV)