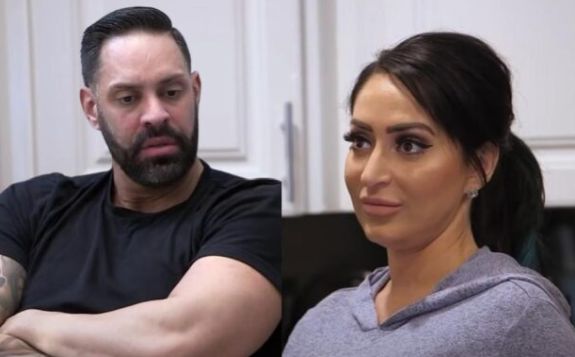 Despite a rollercoaster marriage (and subsequent divorce) worthy of its very own attraction on the Seaside Heights Boardwalk, Chris Larangeira and Angelina Pivarnick are finally on good terms, just a year after finalizing their divorce. In fact, Chris says he's actually fist-pumping for Angelina and her new fiancé, Vinny Tortorella!
Chris, who previously appeared on Jersey Shore Family Vacation alongside Angelina, filed for divorce in January 2022, after two years of marriage. The following month, The Ashley broke the news that Angelina's actions while filming the Paramount+ reality show All Star Shore had been the final straw in the couple's historically troubled marriage. Chris and Angelina's divorce was finalized in May 2022.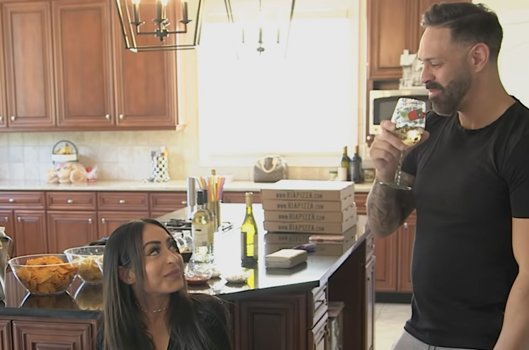 On the heels of celebrating her newly-minted, unmarried-lady status, (literally 24 hours later) Angelina accepted a marriage proposal from boyfriend Vinny Tortorella as her 'Jersey Shore' family watched on.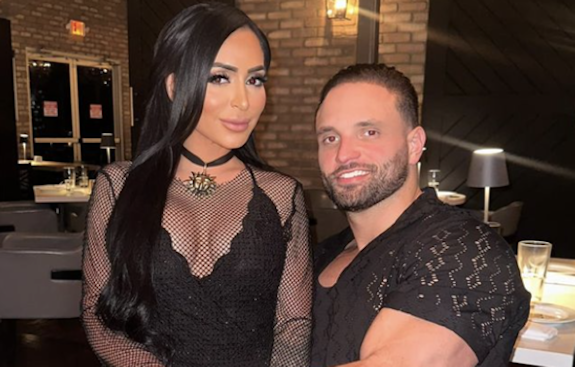 Now that Angelina has officially moved on and is making plans to march down the aisle for a second time, Chris took to his Instagram Story this week to set the record straight on where things stand between him and Ang. Despite what some have been speculating online, Chris told fans he neither hates Angelina, nor is he bitter about her moving on with someone new.
In fact, Chris said those rumors are "the furthest from the truth."
"You CAN NOT have any resentment if you truly want to heal and better yourself," Chris posted on his Instagram Story, shared by @mtv_reality_teaa.
"I may joke around at times and all but the truth is I'm very happy for Angelina and her new fiancé," Chris wrote. "He seems like a great guy and I've spoken to her a lot in recent times and I always tell her how happy and I am for her and wish her nothing but the best."
Earlier this week, Chris took to TikTok to share a thirst trap additional positive words on relationships, encouraging his followers to "learn to be happy alone and just work on being the best version of yourself."
As mentioned in the statement about his 'Jersey Shore' ex, Chris often makes light of his single status on social media, whether its by making jokes about Valentine's Day, puns about not having chemistry with anyone or friendly jabs seemingly directed at Angelina herself.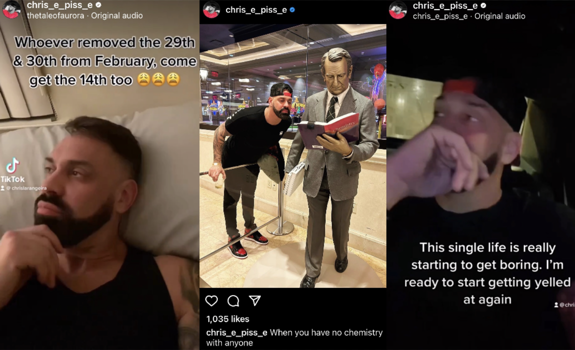 "This single life is really starting to get boring. I'm ready to start getting yelled at again," Chris joked in a TikTok from March.
Chris concluded his Instagram Story on Angelina this week by telling fans, "life is too short to live with anger and have hate in your heart."
"Love everyone and love each day you're alive," he added.
RELATED STORY: Sammi Giancola is Back! See the First Clips of Sammi Surprising Her Roommates on 'Jersey Shore Family Vacation'
(Photos: MTV; Instagram; TikTok)