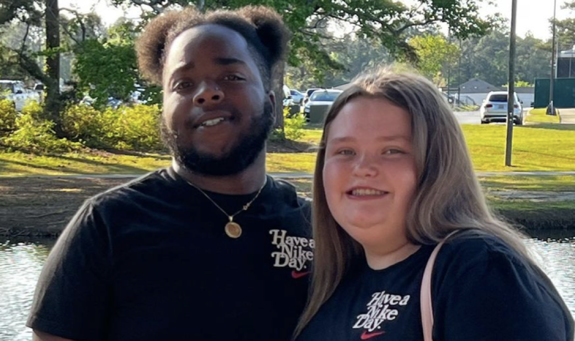 While Alana "Honey Boo Boo" Thompson is set to start college in Colorado next week, her boyfriend is facing criminal charges back home in Georgia.
The Sun reported that Dralin Carswell, Alana's boyfriend of two years, has been indicted by a grand jury on four counts stemming from a February incident where he led police on a chase with the underage reality star in the car. Dralin, 22, has been formally charged with "fleeing or attempting to elude a police officer, driving under the influence (controlled substance), driving under the influence (drugs)" and "giving false information to a law enforcement officer," according to court documents obtained by The U.S. Sun.
As The Ashley previously reported, Dralin was driving Alana and a friend, Julian Williams, on February 28 when cops ran his plates and saw that the car's owner had outstanding warrants. They attempted to get Dralin to pull over but Dralin refused, instead leading the police on a three-mile chase, reaching speeds of 75 mph in a 55 zone and, according to a police report, running another car off the roadway.
The chase ended after a police car collided with Dralin's, causing him to lose control of his vehicle.
When pulled over, police allege Dralin initially gave them someone else's name. Police soon learned his true identity and, after running Dralin's driver's license, discovered that he was wanted in another county for a probation violation. During a search of the vehicle, police reported discovering a bag of marijuana and an unregistered firearm. It was also discovered that Dralin had marijuana in his system at a potency level "to the extent that it was less safe for him to drive," according to court documents obtained by The U.S. Sun.
Dralin's pal Julian was also arrested that day because police discovered he had outstanding warrants as well. Alana was released to the custody of her sister and guardian, Lauryn "Pumpkin" Shannon.
A week after the arrest, the sisters went on TikTok Live to show their support for Dralin,
"All this fuss that folks be doing on TikTok and s**t and y'all still be supporting the f**k out of them," Alana argued in the video. "They do way worse s**t than what Dralin did!"
Lauryn echoed her sister's sentiments.
"Y'all out here supporting people who beat women … And y'all worried about Dralin running from the goddamn po-lice," she said. "Be for real!"
The sisters have yet to comment on the latest development on Dralin's case.
Alana, who turns 18 on August 28, is set to start a six-year neonatal nursing program at Regis University in Denver, as The Ashley previously reported. The first day of the fall semester at the private Jesuit university is Monday.
"I'll be moving off campus for security reasons and because Dralin is coming with me," the incoming freshman told Entertainment Tonight in July. (Regis' code of conduct prohibits students from cohabitating if living in campus housing.)
Dralin and Alana have been living in Colorado, but recently came back to Georgia. While Pumpkin didn't reveal why the duo had made the unexpected visit, she did ask followers to "say a prayer for Dralin and his family."
"They're going through some stuff right now, so that's why Alana and them are home" in a TikTok she posted last Sunday promoting an energy supplement.
While her family's latest reality show Mama June: Family Crisis has not been renewed yet, Alana thinks her life will continue to play out on television.
"Yeah, I have been on TV my whole life and I kind of just basically accepted that whether I want to go be a nurse or I want to go be an accountant, whatever I want to go be, that I will always be in the spotlight," she told Entertainment Tonight. "It doesn't matter what I do, I will always probably be known as, 'Oh my god, Honey Boo Boo's working on my baby when he was in the NICU.'"
Whether the cameras will be capturing Dralin's legal issues and Alana's adjustment to college life is yet to be seen.
(Photos: Instagram)