Trigger Warning: This article discusses mentions of suicide and suicidal thoughts.
Vanderpump Rules star Tom Sandoval opened up this week about his "headspace" amid the fallout from Scandoval, claiming there were times he "felt very, very close" to taking his own life.
Sandoval-– who was outed in March for having a months-long affair with co-star Rachel Leviss behind the back of his longtime girlfriend, Ariana Madix–- made this claim in the first episode of his new podcast, Everybody Loves Tom.
While discussing the affair with guests Kyle Chan and Jason Bader, Sandoval recalled a time when he and Ariana saw Chester Bennington at The Grove just a few days before the Linkin Park singer died by suicide in July 2017. Sandoval told his guests that he "never understood" the singer's thought process until he was facing the backlash from Scandoval.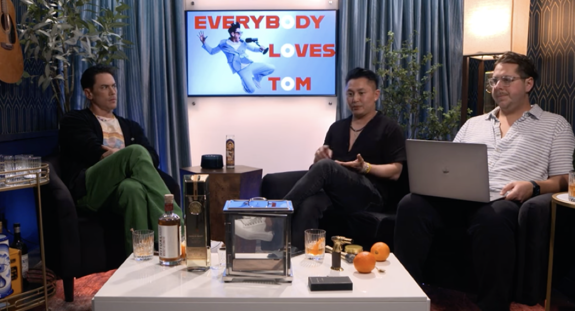 "There were some times where I felt very, very close [to suicide]," he said, before going on to explain his "headspace" at that time and the "domino effect" of thoughts he experienced.
"Your world just starts collapsing itself and you cannot see outside of your feelings," he continued. "Your peripheral goes away, your sense of thinking about the future, about like, 'Oh come on,' like, your ability to snap out of it goes away."
Sandoval said life after news of his affair broke was "like living like a fugitive" for him.
"Not being able to go anywhere, being followed, being harassed just relentlessly," he said, adding that it all contributed to a massive decline in his mental health.
"At one point I didn't shower and didn't change my clothes for almost a week," Tom said. "Dude, I was so gross."
Sandoval also recalled a particularly difficult day in which things got "really dark" for him as Ariana filmed a commercial for Duracell batteries in their shared home. (As you may recall, the commercial took quite a few jabs at Sandoval.)
"That was rough," he said of the commercial shoot.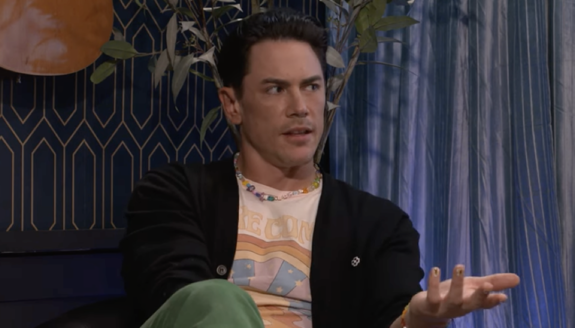 Sandoval also noted that he was at Rachel's "beck and call, in a sense" around this time, as the now-former 'VPR' star was away at The Meadows treatment facility in Phoenix, Arizona.
" … She couldn't have her phone in there, no access to anything, and so I had to wait for her call, which can only happen maybe twice [or] once a day … ," he said, claiming that up until Rachel checked into the facility, the two were "obviously talking to each other all the time."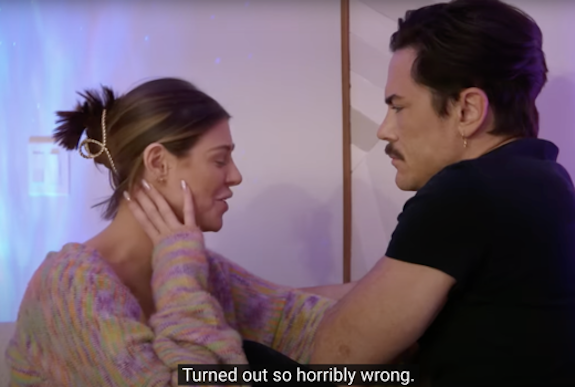 (As you know, Rachel no longer speaks to Sandoval and recently blocked him on social media after he wished her happy birthday in an Instagram comment; Sandoval confirmed the two have not spoken since June.)
Sandoval said he was "so, so glad" he had friends there for him in his time of need. The Schwartz and Sandy's part-owner also credits his healthier lifestyle-– which began in early April when he stopped drinking alcohol and chain-smoking–- and touring with his cover band, Tom Sandoval & The Most Extras, for saving his life.
"I haven't drank since– I believe it was April 4th or 5th," Sandoval said, adding that the day Rachel went into the mental health facility was the day he stopped drinking. "I didn't really tell a lot of people during the process. I think that kind of helps. I also quit smoking cigarettes. I was kind of at the point where I was just chain-smoking cigarettes all day, everyday.
" … Honestly, I think that, you know, quitting the drinking and going on tour like, it might have actually saved my life," he added. "I can't imagine being cooped up— because I couldn't go anywhere at the time— being cooped up in a place…not being able to do anything, just wallowing in misery."
You can watch the full first episode of the Everybody Loves Tom podcast below!
RELATED STORY: 'Vanderpump Rules' Star Tom Sandoval Launches 'Everybody Loves Tom' Podcast, Months After Scandoval Affair
(Photos: YouTube; Instagram; Bravo)