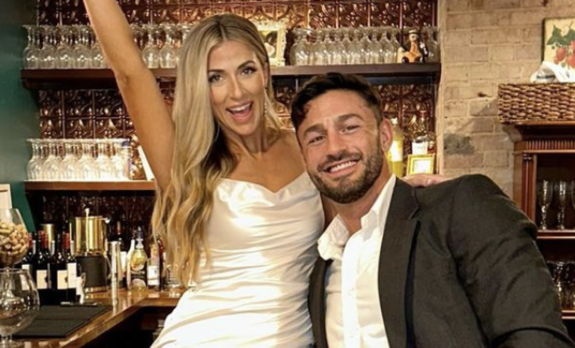 Tony Raines is a married man.
People reports that The Challenge and former Real World star tied the knot Saturday with his high school sweetheart Alyssa Giacone at a ceremony held at Strawberry Manor in Ponchatoula, Louisiana.
"For me, it's a fairytale!" Alyssa told the outlet leading up to the big day. "I've pretty much been waiting for this moment since high school! It's been a super chill planning experience which has made it even better and I'm just ready for the big day to get here."
The ceremony was officiated by a friend of Tony and Alyssa, and featured the couple's daughter Isla, as well as Tony's daughter Harper, walking down the aisle, too.
"We both wanted to write and read our own vows to each other," Tony told the magazine.
The reception was done in colors including sienna, navy and cream. Tony and Alyssa did their first dance as husband and wife to Taylor Swift's son "Lover."
View this post on Instagram
MTV viewers may remember Tony's reality TV debut on The Real World: Skeletons back in 2015, during which Alyssa showed up on the series as Tony's then-ex (aka his "skeleton" in the closet). The couple ultimately went on to rekindle their relationship and welcomed their daughter Isla six years ago.
Tony is also a dad to seven-year-old daughter Harper, whom he welcomed with his 'Skeletons' co-star Madison Walls.
(Madison signed over custody to her parents in 2018 and later that year, her parents and Tony agreed to a custody plan. Madison has faced legal issues in recent years, and in May, she claimed in a GoFundMe that she was homeless.)
Tony and Alyssa originally planned to wed in 2020, but postponed their ceremony due to the COVID-19 pandemic. Their plans were delayed once again the following year after losing their home in a hurricane.
"In 2021 we were impacted by Hurricane Ida which again set us back," Tony said. "After settling in our new home, we finally picked October 14, which is two days shy of exactly five years since the engagement on October 12, 2018."
Tony said marrying his Alyssa "means making official what has been 18 years in the making."
"I'm just excited to finally call her my wife and not girlfriend/fiance/baby momma!" Tony added.
Following the couple's honeymoon in either Italy or Hawaii, Alyssa said she and Tony plan to continue growing-– and enjoying-– their family.
"The next chapter looks like another baby and just living in the moment and enjoying this family that we've built," she said.
RELATED STORY: It's a Girl! 'The Challenge' Vet Wes Bergman Welcomes First Child with Wife Amanda Hornick
(Photos: Instagram)