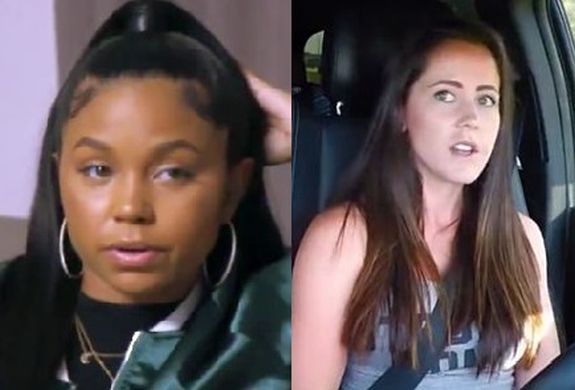 Jenelle Evans is coming to the defense of Teen Mom OG star Mackenzie McKee after Mack was labelled 'exhaustingly ignorant' and a bully by her co-star Cheyenne Floyd. In a new interview, Jenelle took some swings at Chey, insisting that Cheyenne is actually the one who is racist, and referring fans back to Cheyenne's infamous 2011 tweets in which she wrote that she has a problem with white people, among other problematic things.
Jenelle also took to Twitter to address the "Mean Girl" accusations against Cheyenne and the other 'Teen Mom OG' girls, who purposely left Mackenzie out during the filming of the 'Teen Mom OG' Reunion last week, causing Mackenzie to take to social media to claim that her being left out was due to Chey not wanting to be around Mackenzie because of her racism scandal earlier this year. (Click here to read about that!)
In an interview with The Sun, Jenelle defended Mackenzie for accidentally mixed up the terms "colored woman" and "woman of color."
"It makes me mad that nobody brings up Cheyenne, and then everyone drags everyone else for saying colored woman like, come on," Jenelle said.
"Cheyenne is the one that posted that she hates white people, so I don't even want to hear that," Jenelle stated. "If anyone's racist, it would be Cheyenne who has been tweeting about it for way longer…Cheyenne has said much worse."
Cheyenne's tweets from 2011 were discovered shortly after The Ashley announced that Cheyenne had been cast on 'Teen Mom OG.' Although the tweets have long since been deleted, they live on in screenshots.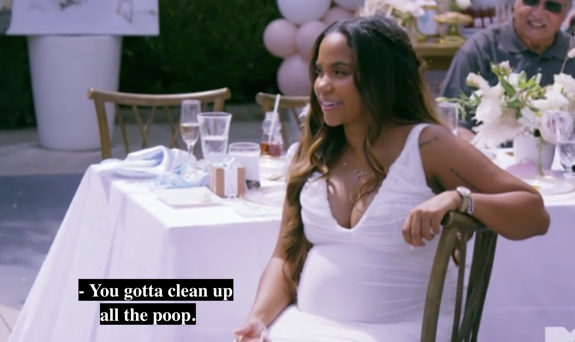 In 2011, Cheyenne tweeted, "My mom said I can't see [the movie] 'The Help,' she knows I already have a problem with white people."
She later posted, "Last night I saw ['The Help'] and I wanted to kill every white person I saw."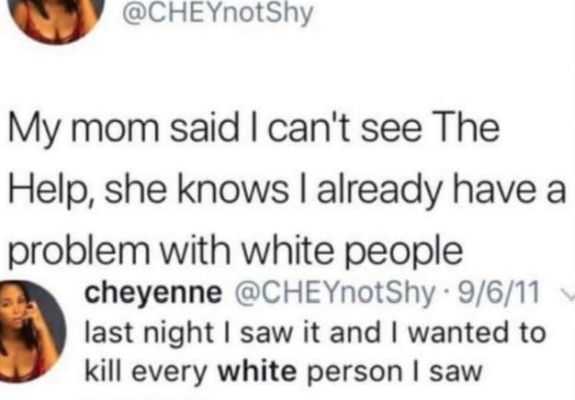 That same year, Cheyenne retweeted a tweet, assumingly sent to her by a friend, that was pretty shocking.
"[Cheyenne] and [redacted] are the only Nazi-loving, black power-having, 'kill-a-white-baby-if-I-could' people I can accept & adore."
She also posted, "This little white kid told me I looked like a cat today. I shoulda kicked him in his head."
After the old tweets went public, Cheyenne temporarily deleted her Twitter account. In 2018, though, she finally addressed the old tweets, writing on Instagram, "As a mom of a baby with a biracial dad, and a member of a new blended, mix-raced family, I am so sorry that these messages resurfaced, and they do not represent me at all."
She also claimed that she was not the only person posting tweets to her account. (She received some criticism for shucking the blame off of herself. and instead claiming someone else wrote the offensive tweets…but posted them to her account.)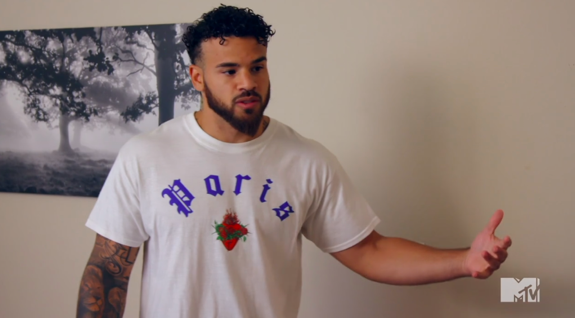 "[The tweets] came from a shared social media account (with many users) during my teenage/college years. Although I didn't write them, they were in poor taste and hurtful. Through this experience I have grown up so much and thank God every day for the woman I am becoming."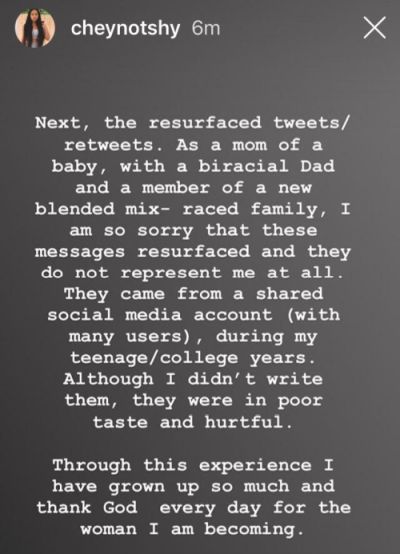 Jenelle was clearly not moved by Cheyenne's 2018 apology, telling The Sun this week that Cheyenne should not be accusing Mackenzie or anyone else of being racist, due to her own previous actions.
"Cheyenne is like 'Oh you're racist. I don't want to film with her. I don't want be sat with her.' No Cheyenne- you just don't like white people," Jenelle told the website.
On Twitter, Jenelle posted (then deleted) a tweet hinting again that Cheyenne just doesn't like white people.
"…some of those girls pointing fingers hate white people themselves," she wrote.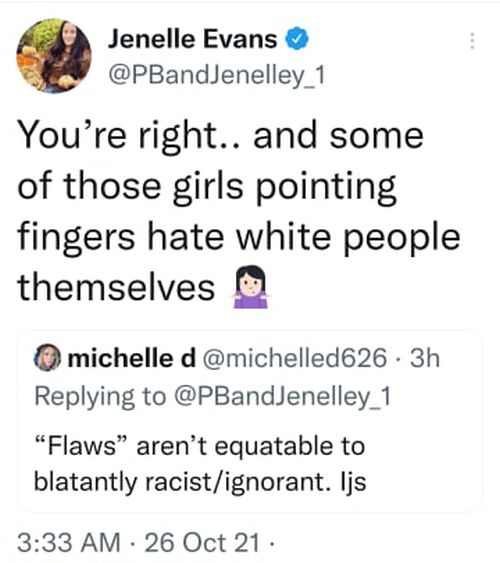 Jenelle also addressed the fact that many fans were calling Cheyenne, as well as Maci Bookout, Amber Portwood and Catelynn Lowell "mean girls" for bringing "high school level drama" to the set by leaving Mackenzie out. In a series of tweets, Jenelle discussed her own experiences of being left out on a 'Teen Mom' set.
View this post on Instagram
(In the years since Jenelle was fired from Teen Mom 2, she has accused her former cast mates Kail Lowry, Leah Messer and Chelsea Houska of "mean girl" behavior and of purposely leaving her out at Reunions.)
"People have been asking me about McKenzie," Jenelle tweeted earlier this week. "I know me and McKenzie have each other blocked.. lol but someone tell her I said stay strong and don't be upset. You're the bigger person in this situation.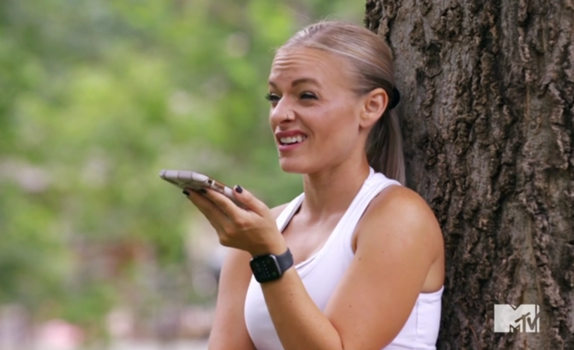 "Y'all… leave McKenzie alone. Way to make someone feel left out… per usual," Jenelle added, taking a shot at her former nemesis Amber along the way. "Honestly I can't believe Maci and Cate would act this way. You can expect Amber to but damn I know how McKenzie feels and it bothers me. That's all.
"I remember a day being singled out, locked in my hotel, crying my eyes out. Feeling alone, feeling like I wasn't good enough for anyone," Jenelle wrote. "Being a 'mean girl' isn't the best choice and I hope some of you are never like that. Mental Health Awareness IS REAL."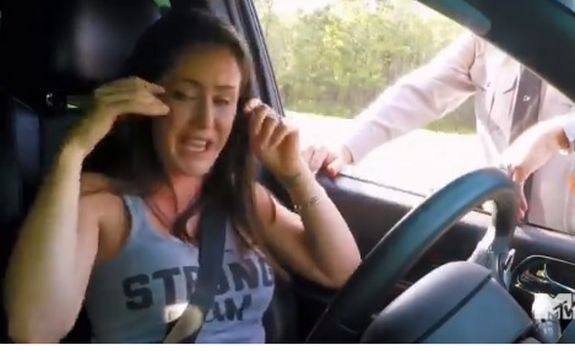 She then tweeted (and deleted) that she did her best to make Briana DeJesus feel welcome when she was added to the 'Teen Mom 2' cast years ago.
"Likeeee when others tried to be mean girls to Bri I was like, 'nope, this isn't happening again.' That's why me and [Briana] clicked, probably why her and Jade [Cline] click too…and I couldn't be happier for their friendship."
Cheyenne has yet to respond to Jenelle's interview about her.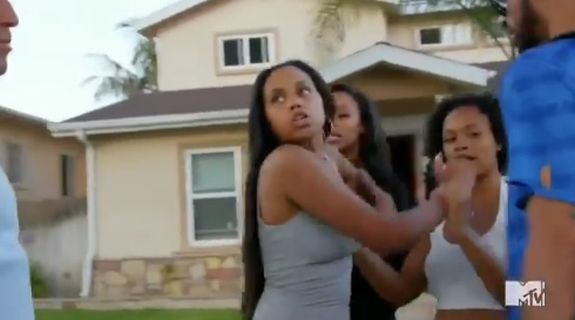 This is not the first time an Eason has come for Chey and those associated with her. Last year, Jenelle's husband David Eason blasted Cheyenne, writing on Facebook that she should have been fired from 'Teen Mom OG' because of her tweets, just as Taylor Selfridge (the girlfriend of Chey's baby daddy Cory Wharton) was fired after her racially offensive tweets were discovered.
"Cheyenne Floyd has so much privilege she can say the most racist things out of anyone, delete her apology but still not fired?" David wrote, later commenting, "You're not supposed to say anything if it's a female being a racist c**t."
Hours later, David fired his Internet back up to post a series of Instagram Stories, tagging MTV and asking his followers to make Cheyenne (or, as he put it "this bitch") "famous for being racist. Boycott @MTV, contact their sponsors!"
He then came out swinging for 'Teen Mom' Executive Producer Morgan J. Freeman for firing him and Taylor but not Cheyenne.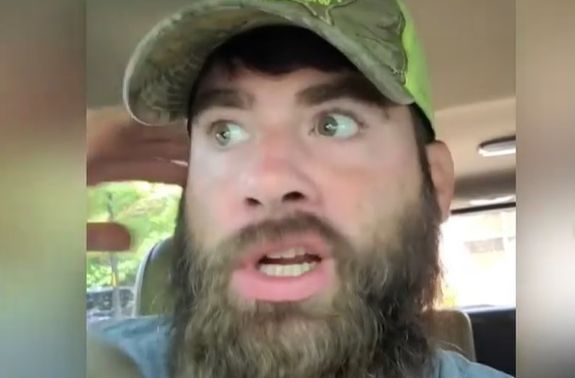 "Morgan acts like he cares about racism but looks like he only holds white people accountable for their actions," David— who was fired in 2018 for posting homophobic tweets— wrote.
David then posted some screenshots of Cheyenne's old tweets, along with messages such as, "@MTV you gonna fire everyone or just pick and choose who you don't like personally?"
"MTV knowingly hires a racist," David wrote on another screenshot of The Ashley's story about Cheyenne apologizing for her old tweets. "@MTV did you know that Cheyenne deleted her apology after saying all this?"
In 2018, David accused Cheyenne as well as Cory of hating white people before challenging Cory to a fight on The Land.
"So I just heard this racist b*tch Chyenne Floyd has one of her boyfriends who thinks he wants to fight me. Why because you and your girl HATE WHITE PEOPLE so you attack the most southern one… You're better off taking sand-paper to a tigers a** than f**k with me boy," David wrote on Facebook.
RELATED STORY: Maci Bookout & Cheyenne Floyd Feud with Mackenzie McKee After Mackenzie Is Left Out of 'Teen Mom OG' Promos & Claims Cheyenne "Hates" Her: Full Recap of Events
(Photos: MTV; Instagram; Twitter)