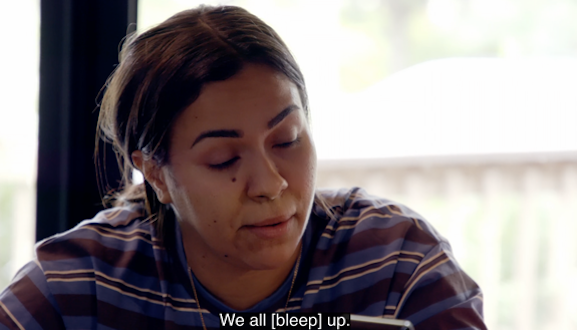 From bashing each other online to bringing in the ratings, it's been another busy week for the stars/former stars of the Teen Mom franchise! In an effort to bring you up-to-date on the latest Teen Mom OG and Teen Mom 2 news, The Ashley brings you the Teen Mom News Pile.
Here are some of the major (and minor but interesting) 'Teen Mom'-related things that happened over the last few days…
Chelsea Houska & Cole DeBoer's New Show 'Down Home Fab' Does Well in the Ratings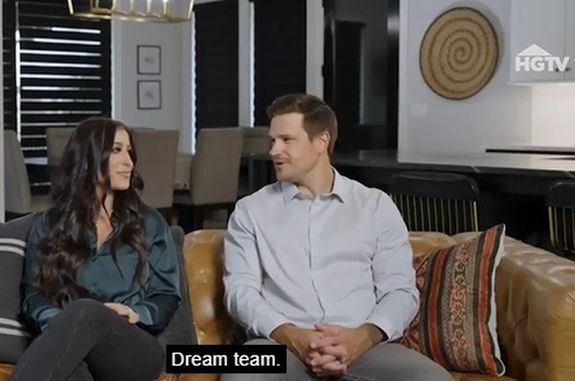 The ratings are in for Chelsea and Cole's new show 'Down Home Fab': and things are looking relatively good for the former 'Teen Mom 2' stars.
The show– which premiered on Monday on HGTV— brought in more than double the amount of viewers as 'Teen Mom Family Reunion' Episode 3. (This was the much-anticipated "Family Reunion Fight Club" episode.)
According to Showbuzz Daily, 678,000 viewers tuned in to see Chelsea and Cole redesign a house on 'Down Home Fab.' The episode also made the list of Top 50 Original Cable Telecasts for Monday night, coming in at No. 45 in the coveted 18-49 demographic. (This number reflects live viewers and viewers who viewed the show on the same day it aired, by the way.)
'Teen Mom Family Reunion' Episode 3– which aired one night after Chelsea's show premiered– garnered just 274,000 viewers. (These numbers are surely disappointing for MTV, as this episode was built up due to it featuring a huge fight amongst cast members.)
There are five more hour-long episodes of 'Down Home Fab' due to air on HGTV. As for whether or not there will be a second season, Chelsea and Cole told The Ashley last week that they don't know yet but they are very open to it.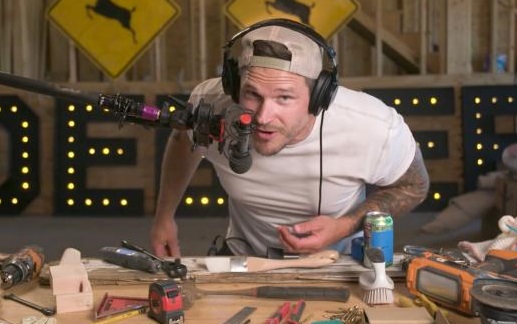 "We would love to do more seasons," Chelsea told The Ashley in their interview last week.
"We have high hopes," Cole added. "We are definitely ready."
Briana DeJesus Reveals More Details About Her Recent Visit to Dr. Miami for Ye Another Cosmetic Surgery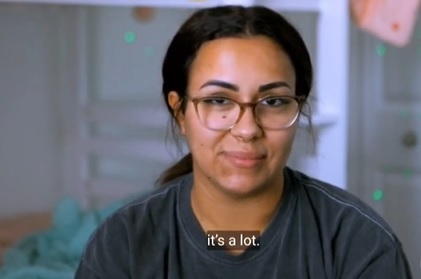 Earlier this month, Briana let her Twitter followers know that she had once again gone under the knife; however she left her fans wondering what body part had been worked on this time. Briana— who, as fans know, is no stranger to the plastic surgeon's operating table— did not reveal what kind of surgery she had done until this week.
(For those of you keeping track of Bri's body-hacking buffooneries, she has had at least three surgeries on her breasts, a tummy tuck, liposuction, at least two BBLs, and a labioplasty, which is a surgery that gave Briana's, um, "gentleman greeter" a makeover.)
In a new tweet, Bri confirmed that she had yet another cosmetic procedure done by Dr. Miami, but this time it was to repair some of the botchery from a previous surgery. (Sadly, though, it was not to repair Bri's rump, which is the result of several BBLs by Dr. Miami.)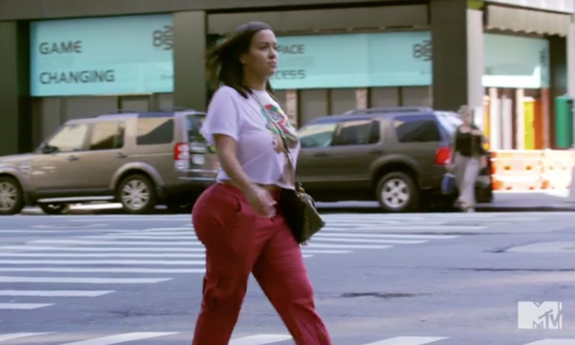 Instead, she revealed that she let Dr. Miami cut her up again, but this the surgery focused on her belly button.
"I fixed my belly button recently (years ago I got a tummy tuck and my belly button got infected and healed really f**ked up) but I am so happy with my results now! Thank you @TheRealDrMiami," she wrote on Tuesday on Twitter.
Briana's first plastic surgery procedure was a breast enlargement done in 2015. (She showed it off by posing for topless paparazzi pics on the beach…as you do.) The following year, Dr. Miami carved up the 'Teen Mom 2' star (in addition to her sister Brittany and future nemesis Kail Lowry), in an epic Brazilian Butt Lift fest that was broadcasted on Snapchat. Briana also got bigger breast implants, lipo and her vagina makeover the same day.
In 2018, she returned to The Doc to have fat removed from the BBL she had before, and to get a tummy tuck and a breast lift with smaller implants. (This was the trip to see Dr. Miami that Javi Marroquin was there to "help" Briana.)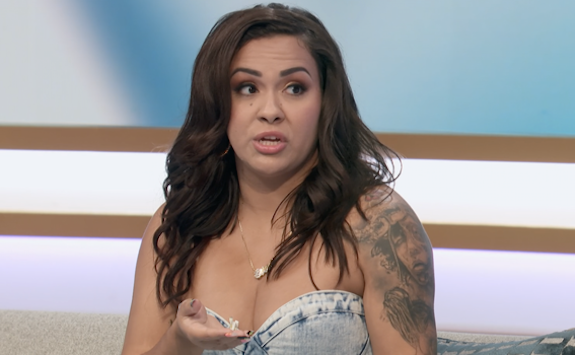 In 2021, she made yet another trip to see Dr. Miami (and his scalpel), where she received yet another breast augmentation, and a "repair" of her belly button. (Bri's sister Brittany joined Bri on this surgery venture and got some procedures done, too.)
Briana has stated in the past that she "sometimes regrets" getting so much plastic surgery; however, she has not yet said that she is done having procedures.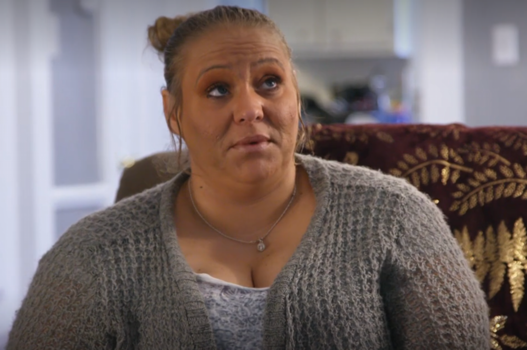 Ashley Jones Slams Cheyenne Floyd After Cheyenne States That She Doesn't Have to Be Friends With Ashley Just Because They're Both Black Women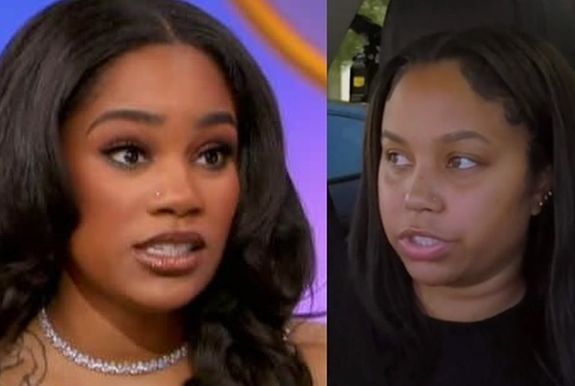 Ashley is not happy over some comments that Cheyenne recently made on her Think Loud Crew podcast— and in a (since-deleted) comment Ashley let Cheyenne— and everyone else– know via some zingers aimed at Cheyenne's recent plastic surgery and marriage to Zach Davis!
Earlier this week, Chey posted the latest episode of her podcast, during which she and her co-hosts discussed how many 'Teen Mom' fans (as well as some of Ashley's family members), called Cheyenne out for not supporting Ashley because they're both Black women. (Both Ashley and Cheyenne attended the currently airing 'Teen Mom Family Reunion,' where things went very south between Ashley and Briana DeJesus and their moms.)
"What people have a misunderstanding about is that I can love being Black, but that doesn't mean that I have to include every Black person into my life," Cheyenne said, adding that she was called out by Ashley's sister for not supporting fellow Black girls.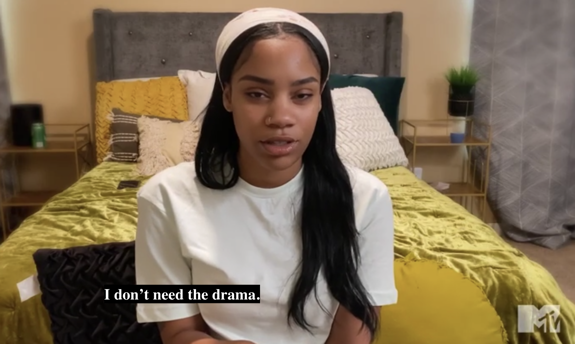 "It's not even just fans saying it. It's even like [Ashley's] sister. She said some stuff online like, 'Oh, you went with the others.'…Just because we're both Black it doesn't mean that we have to be besties!
"And trust me, I really was nice to everybody. I was," Cheyenne continued. "I feel like at some point you have to call it what it is, and if you don't mesh with someone's personality or their vibe, than it is what it is. I don't have to be your friend just because of the color of your skin."
Cheyenne went on to discuss why she un-invited Ashley to her September 2022 wedding, stating that Ashley's behavior online after she was kicked off 'TMFR' made her realize she didn't want cast members who had beef to bring that to her wedding.
"The wedding was two weeks after 'Family Reunion.' So much happened at 'Family Reunion' and there was so much drama…and when [Ashley] went home, she continued to fuel the fire. It wasn't positive. It was all negativity. I didn't want any of that conversation to transfer to the wedding."
According to the @TeenMomFanz Instagram account, Ashley gave her thoughts on Chey's comments in an Instagram comment on their account. (It has since been deleted, though.)
"Tell the people how you tried to cover up the new body with an accident and stop talking about me," Ashley wrote to Cheyenne. "I MARRIED MY FIRST CHOICE BABES & I am over you and this freaking storyline!"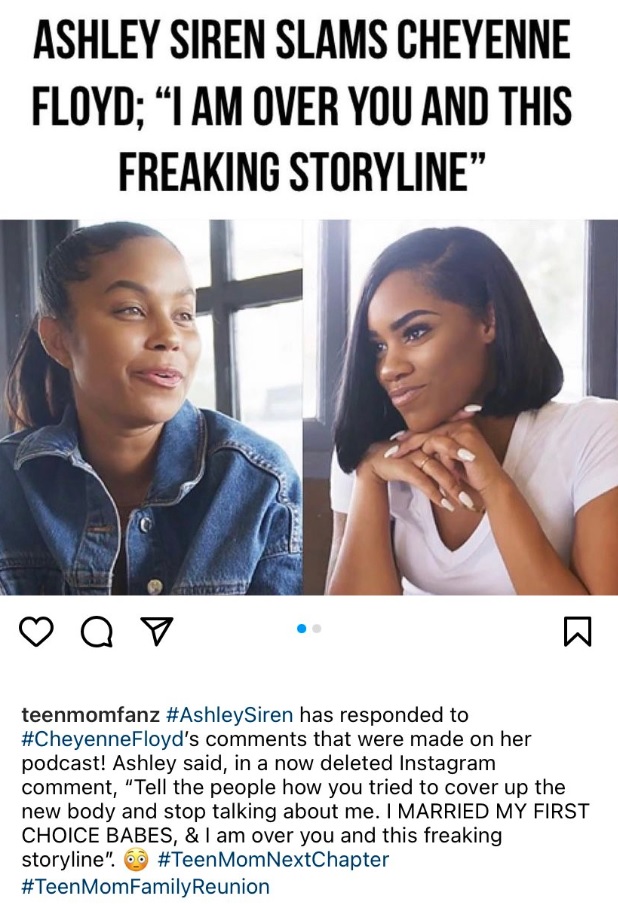 Ashley is referring to a surgery Cheyenne had last year which she claimed was to repair her breast implant that had been damaged in a car accident that occurred after she and her family were shot at while in their car. While many fans accused Cheyenne of actually getting a Brazilian Butt Lift (as her rear looked more…um…ample by her wedding) and other procedures, Cheyenne denied it.
"I did not get a BBL," Cheyenne said in September on her podcast. "You know, I just feel like I keep on getting all these messages from people who are like, 'just tell me that you got a BBL and stop lying about getting your butt done.' I just feel like, I have to just like, make it be known, I did not get my butt done."
Cheyenne has yet to respond to Ashley's scathing remarks.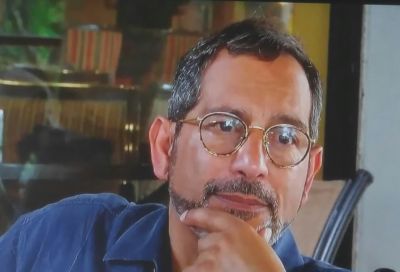 Cory Wharton & Taylor Selfridge Give A Happy Update On Their Daughter Maya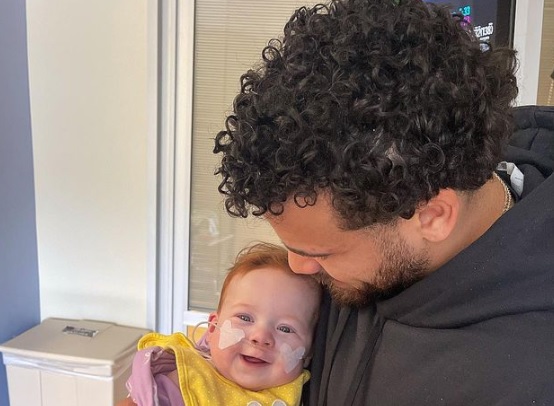 After spending nearly two weeks in the ICU, Maya Wharton— the daughter of Cory and Taylor— has finally been allowed to go home.
As The Ashley previously reported, the seven-month old–– who was born with a rare form of heart disease called tricuspid atresia–– had open heart surgery on January 4. After the surgery, Cory indicated that things hadn't gone as they had hoped. Although he initially posted a couple of updates about Maya after her surgery, the posts quickly came to a halt.
Cory returned to social media over a week later, providing followers with an update on Maya's eleventh day in the hospital. He wrote that Maya's medical ordeal has been "the worse experience of my life." Taylor also updated her fans, stating that she and Cory have been "traumatized" by Maya's ICU experience.
"We are still in the hospital in ICU, this has been the worst experience of my life, to watch your child sit there and stare into your soul to DO SOMETHING to help and there's nothing I can do smfh," Cory wrote. "I don't even know how to sum it all up. I just continue to pray."
In a new update posted this week, Cory announced that Maya has finally been released from the hospital. He also shared that his daughter had to be placed on a ventilator several times and have another surgery during her ordeal.
"Maya had a successful Glenn procedure! But during recovery Maya had other plans," Cory wrote. "Maya's oxygen levels were lower than the doctors wanted it to be. Six days after her Glenn she ended up back in the operating room for a Cath lab procedure to hopefully fix what they thought was the problem. It turned out that there was nothing to fix, which was great but it didn't fully explain the oxygen levels being so low. Trying to get her off the ventilator the second time around was a lot harder. After this roller coaster ride of emotions, I'm just happy & thankful to be home."
View this post on Instagram
In Taylor's update, which was posted to Instagram on Wednesday, she revealed that baby Maya is still using an oxygen tank.
"Maya will be going home on oxygen for now. We have to get reassessed in a few weeks once her lungs are healed from everything she went through. Not what we were expecting for recovery but being in Children's Hospital for 2 weeks I am absolutely blessed that I get to take my child home. It's very eye-opening to be here."
Taylor called the experience "the most stressful thing" in their lives, but was happy to report that Maya's heart surgery was a success.
View this post on Instagram
"She has one big one left but please God not for a few years," she said.
To catch up on more recent 'Teen Mom' news, click here!
(Photos: Instagram; MTV)