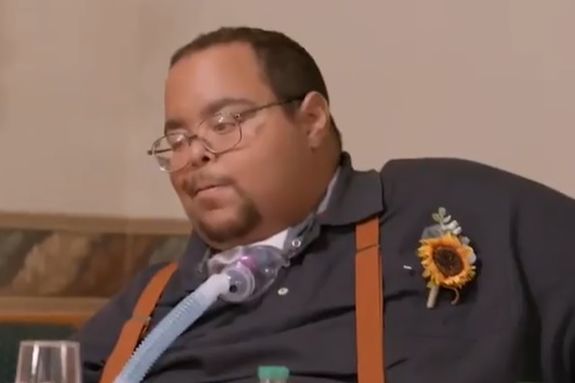 Tammy Slaton is reeling after the sudden death of her (possibly estranged) husband, Caleb Willingham.
On Saturday, news broke that Caleb— whom met the 1000-lb. Sisters star while they were both in a weight loss rehab center in Ohio— had died, just days after turning 40.
Tammy, her sister Amanda Halterman and Caleb's family members paid tribute to him on social media.
Tammy— who had reportedly split from Caleb earlier this year— said in a statement that she was "devastated to share the news of my husband's passing. He was my best friend and I loved him dearly. When I met Caleb he became my guardian angel and now he really is watching over me. Our families appreciate everyone's sympathy and ask that you respect our privacy at this time."
She also posted a photo of herself with Caleb on Instagram, along with the caption, "Rip sweet angel you will forever be missed and loved so much thank you Caleb for showing me real love and happiness."
View this post on Instagram
Amanda also posted about Caleb's death on her private Facebook page, writing, "Please whisper a prayer for our family and all of Caleb's family. [He] is sitting at the feet of Jesus. Heaven got a good one! I didn't get to spend a lot of time with him but the messages he would send helped me through so many dark times. I am so thankful for the love he showed my sister and all those he came in contact with."
While Caleb's cause of death is still unknown, he had struggled with health problems for years due to his weight. Caleb— who hailed from Indiana— spent the majority of 2021 hospitalized. In December 2021, he posted a message about his health to Facebook.
"First post in a while. It's not your regular "New Year, New Me" post. Because after spending 11/2-2 months in the hospital I've realized it's New me or no me," Caleb wrote. " My life is on the line. I love you all. And if you ever had any kinda love for me let's reconnect. I'm not giving up by any means but I know God can take any of us at any time."
In September 2021, he revealed that, at one point, he had reached a weight of more than 650 lbs. but was steadily losing weight.
"Some of y'all may not know but through a series of bad choices in my life I ended up over 650 lbs…." he wrote on Facebook at the time.
Caleb went to rehab in Ohio, where he met Tammy after she checked in around January 2022. The pair got engaged in the parking lot of the facility in November 2022, marrying just weeks later at the rehab center. Their wedding was shown on the most-recent season of "1000-lb. Sisters."
View this post on Instagram
After Tammy left the facility after completing rehab in February, things reportedly went downhill in her marriage to Caleb, who remained in rehab and didn't transfer to a facility closer to Tammy's Kentucky home as he had promised.
While the distance strained the couple's marriage, The Sun's source stated that it was Caleb's lack of commitment to his weight loss that triggered the split with Tammy.
In April, Caleb confirmed on Facebook that he and Tammy had split, and that the breakup was Tammy's decision, not his.
"If you were only here for my wife, then please delete me now," Caleb wrote in the post, which was captured via screenshot by a Reddit user. "We are married by paper only right now.
"…I'm hurt, mad, confused and alone even with others around. Thank you for your love, prayer and support."
It does not appear, though, that Caleb or Tammy ever filed for divorce before Caleb's death.
(Photos: TLC; Instagram)